As technology has advanced over the past couple of years, field service organizations are faced with a new sort of dilemma – which devices are the right mobile devices to empower your field technicians with? There are so many mobile options out there today, so how do you know that the option you choose to fund is the right one?
One of the biggest mistakes an organization can make when evaluating device choices is getting bogged down off the bat in a technical comparison of which device can do what. An organization looking for a lasting and successful mobile strategy needs to define what a mobile device needs to do for you.
What Does Mobility Need To Do For You?
If your organization needs to capture customer signatures on site – your device needs to have the ability to do this with finger signing or a built in signature pad.
If you require your claims agents to take pictures of reported damage – your device should have a good camera.
Fun Fact: According to Aberdeen Group, 80% of service organizations adopt a mobile solution to improve staff efficiency and speed.
If improved efficiency is what you need mobility to do for YOUR organization here are a few features your device will need:
Signature capture
Offline capabilities
Instant communication
The ability to scan barcodes
The ability to take picture
What Sort of Mobile Culture/Strategy Are You Looking to Generate?
Organizations can choose a device or devices and roll them out, or they can adopt a BYOD strategy. While the first can be largely expensive (mobile technology these days isn't cheap, even with corporate discounts), BYOD comes with its own challenges like security and IT support. This needs to be decided BEFORE you start evaluating what devices to purchase. If you do choose to go the route of BYOD, you need to of course remember that your employees' devices must be able solve the problems your mobile strategy has set out to address (as mentioned above).
Some companies end up finding a hybrid solution. They offer new technology (tablets, smartphones, etc.) at discounted prices or let employees pay for them in monthly installments from their paycheck. This helps ensure that your employees are using organizationally vetted devices, but keeps them happy with something they own and manage that is brand new hip technology.
Fun Fact: In 2011 Gartner predicted that 90% of companies would offer BYOD. In 2013 they stated that "The unexpected consequence of bring your own device (BYOD) programs is a doubling or even tripling of the size of the mobile workforce."
How Will Your Field Service (and Field Service Solution) Affect Your Choice of Device?
Once you have figured out what problems mobility is going to address in your organization and establish a strong mobile strategy, you must look to your field service and your field service solution to guide your device shopping decisions. Let's give you some examples (here's the part where you get excited because you can look at pretty devices).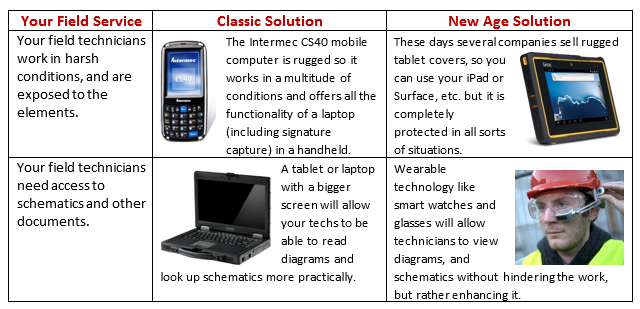 And here are some other examples:
You may have SLAs that you are bound to that require constant connectivity so your techs can receive important information fast. This needs to be on your list of functions your device supports.
How much data do these devices need to support? How much data will your field service solution be pushing to your technicians and vice versa. Not all smartphones support large amounts of data, and this needs to be taken into consideration.
It's easy to get wrapped up in what is new and shiny in the world of mobile technology, but don't let that hinder your mobility success. Your mobile strategy must ensure that you are getting the best of all worlds, a good device, good management, and a good mobile solution for your field team. With these in unity you are on the road to mobile greatness.
Fun Fact: ServiceMobility is device agnostic so it will run on any device and any operating system, so you can eliminate that headache from your checklist. We also provide signature capture, offline capabilities, schematics, parts look-up and so many other features to ensure your mobile workforce WILL improve their efficiency and more.