While field service reporting may not be as flashy as augmented reality or IoT-driven servitization, reports are still integral to a company's success. Without up-to-date and accurate information regarding service jobs and customer satisfaction, it's difficult for field service companies to identify inefficiencies, improve the customer experience, and forecast service demand. In this blog, we'll walk you through the different types of field service reports your team should be using, software features that can automate your reporting, and how they can be used to improve your business operations.
What is a field service report?

In general, a field service report is a document that describes the work carried out by a field service technician during a service appointment. It will typically include information about the date and time of the visit, the customer's name and address, a description of the service, and any parts or equipment used to perform the service. However, as field service management software is digitally transforming the industry, there are additional reports that can be used to improve service, customer satisfaction, and demand planning.
Types of Field Service Reports
With AI-driven field service management software, customers, field technicians, dispatchers, and managers can all work directly within an easy-to-use application. Using this software also allows your company to collect, track, and monitor data across multiple departments and service workflows. Custom dashboards can then be created to visualize these real-time KPIs and provide actionable trend analysis and insights. In addition, you can schedule the automatic delivery of reports based on your desired timeframe. This simplifies and expedites reporting, so you don't have to manually input, review, and infer potential service trends. Let's review some of the most valuable reports and dashboard views available.
Technician Reports:

Otherwise known as job completion reports, these standard documents include the customer or project data, a description of the service, any parts used, follow-up actions, and the customer/technician sign-off. With a

field service app

, these reports can be completed directly within the technician's mobile device.

Technician Performance:

Field service management software collects valuable performance data, enabling a bird's eye view of technician performance. For instance, you can see Mean Time to Service (how long it takes technicians to travel to a job site), Mean Time to Repair (the time it takes to complete a service job), First-Time Fix Rate (how often a job is

completed on the first try

), and even determine if a technician is meeting the Service Level Agreement (SLA). This granular performance data helps you identify the best-performing technicians, and also understand areas for improvement.

Technician Utilization:

As part of intelligent scheduling, the resource utilization view shows the percentage of technicians being utilized over the span of a week. This provides visibility into technician capacity, allowing you to distribute jobs across technicians as necessary. In addition, you can also map service demand across overall technician capacity, helping to identify potential gaps in service that will need to be filled with third-party contractors via a

certified contractor network

.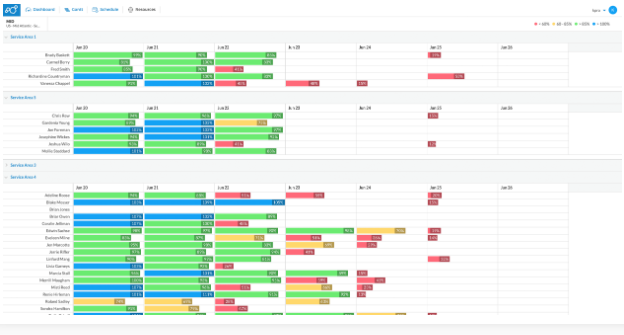 Equipment Management:

With a field service app, your technicians can access real-time

parts and inventory management

on the go. While this data is helpful for setting technicians up for success in the field, it is also helpful for tracking the use and status of specific parts and/or equipment. For example, you can see when equipment is getting run down and needs to be replaced or even going missing.

Customer Satisfaction:

In addition to technician data, field service software can measure and track the quality of your service according to your own customers. Within a

customer portal

, customer surveys can be leveraged to gather direct feedback about service after the completion of a job. By

analyzing customer satisfaction trends

across jobs, you can identify common themes and specific areas that need improvement. Empowering customers to participate in the service experience and evaluation process is also an important way to show that your company cares about what your customers have to say.

Expenses & Fraud Management:

Intelligent reporting is incredibly important for collecting and analyzing financial data. Detailed financial reports can shed light on service costs, and operating margins, as well as identify fraudulent activities. Digital reporting also makes it easier to share financial KPIs and performance across teams, leaving more time to focus on bigger strategies. For instance, understanding the financial health of your company empowers you to adjust your business operations and strategies as necessary to ensure success.

Custom KPIs & Trend Analysis:

Field service management software opens up the possibilities of reporting, all while automating trend analysis. With access to custom KPIs for your unique business needs, you can

configure personalized dashboards

to reflect the most important data for your decision-making. And, trend analysis makes it easy to understand which insights are the most important.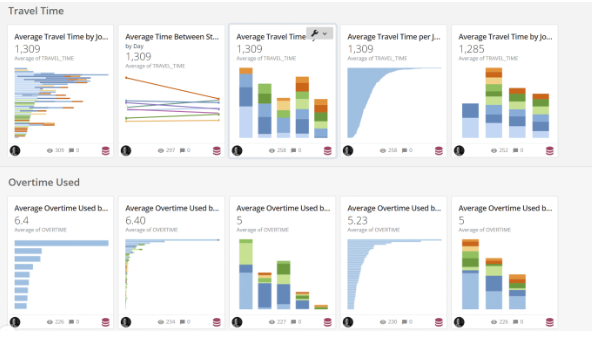 How can field service reports be used to improve business operations?
Field service reports can help improve business performance in the following ways:
Data-Driven Decision-Making:

Intelligent field service reporting can track and analyze KPIs that represent productivity, efficiency, and cost. This empowers business leaders to make

data-driven decisions

that drive meaningful strategy and maximize time to ROI.

Customer Satisfaction:

By

regularly monitoring customer satisfaction, it's easy to identify areas for improvement in customer service. For instance, additional customer service training might be necessary to help certain

technicians communicate with customers

in a professional manner.

Resource Management:

With numerous technicians, parts, and equipment, it can be challenging and complex to manage your resources. Technician utilization data along with detailed parts and inventory information can help provide insight into scheduling capacities, as well as equipment usage and maintenance needs.

Performance Training:

While training is a common onboarding practice, it's not always extended beyond that initial time frame. Tracking workforce performance is a great way to identify additional areas for training and development. Moreover, field service software can even help

facilitate comprehensive training programs

that improve performance and the quality of service.
Field Service Reporting Software
Not all field service management software provides the same level of reporting capabilities. In order to benefit from the reporting methods mentioned above, the software must include the following key components:
Field service reports are the most valuable when they integrate with these components, as each feature collects information that fuels trend analysis and drives data-driven decisions.
ServicePower is a leading provider of intelligent field service management software with cutting-edge capabilities that empower companies to maximize time to ROI. Our customizable solution is the only option on the market that can serve a blended workforce and is proven to increase jobs completed per day by 45%.
Explore how we can improve your service, enhance your reporting capabilities, and increase your productivity with our integrated field service management suite.