Acceleration of blended field service workforce is required to meet the dynamic needs of the service organizations and helps drive field service excellence and quality, according to an IDC white paper sponsored by ServicePower.
"Field Service Excellence Drives Enhanced Customer Experiences and Outcomes" examined key trends in the field service management industry. IDC conducted a study of 200+ service and manufacturing companies across North America and Europe. The report provides insights on challenges, changes, technologies deployed, and opportunities impacting these organizations.
Focusing on how field service excellence augments customer experiences, the report uncovered a myriad of data and strategic insights into field service workforce. One of the key findings identified is the advantage of leveraging a flexible workforce to meet the dynamic needs of the modern field service organization.
Let's take a closer look at this key finding.
Challenges faced
Field service organizations today are confronted by a variety of evolving challenges, which include the impact of a global health pandemic, an aging and retiring workforce, and more.

Service demand can also wildly fluctuate depending on seasonality, new product introduction, customer expectations, and macro disruptions such as current labor shortages. Resource requirements demand organizations evaluate whether contractors can be a part of the worker mix.

Meanwhile, organizations who want to deploy a third-party workforce may face obstacles.

How do field service organizations efficiently bring these contract field service workers into their workforce? This additional set of resources must be onboarded efficiently to ensure credentialing and insurance and license certifications are verified, updated, and accurate to support work.
Third-party workforces need the right tools and technology
The report found that higher or equal levels of quality outcomes can be delivered by contractors if equipped with mobile technology capabilities and insights to ensure there will not be an associated drop in service level agreement adherence. In short, that means companies who equip their blended workforce with the right tools and technology can position themselves for higher field excellence.
The IDC survey research highlights that in North American and some European countries (i.e., the United Kingdom, Germany, France), third-party contractors could deliver higher levels of quality service (39.0% and 29.7%, respectively) or at least the same level of quality (35.4% and 45.3%, respectively) as internal teams (see Figure)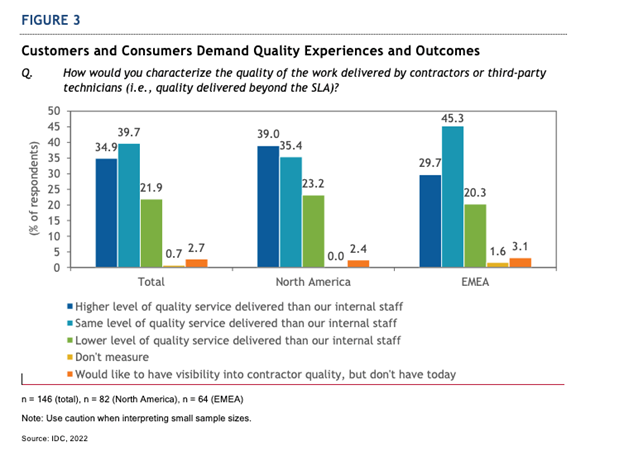 Get more detailed insights
Overall, the ability to tap into a third-party set of resources, without causing a drop in quality outcomes for customers, allows organizations to scale and grow their business and ensure customer revenue value regardless of the resource dispatched to fix an issue. This enables service organizations to have the confidence to shift to more outcome-based models and service contracts without the fear that they will default on this new promise to the customer.
ServicePower has the experience of working with organizations who deploy a blended workforce. With ServicePower's blended workforce solutions, companies can intelligently manage employed and contracted service providers. Benefits include increased customer engagement and satisfaction, real-time AI-based schedule optimization, technician mobility, reporting and analytics, and more.
Download the full "Field Service Excellence Drives Enhanced Customer Experiences and Outcomes" report for more analysis on this insight and the other key insights uncovered.