Meeting a customer service-level agreement (SLA) is a necessary baseline for the success of an organization. However, delivering quality work is becoming more critical today as customers evaluate which organizations will retain their business, according to "Field Service Excellence Drives Enhanced Customer Experiences and Outcomes" an IDC white paper sponsored by ServicePower.
The IDC report examined key trends in the field service management industry by conducting a study of 200+ service and manufacturing companies across North America and Europe. The report provides insights on challenges, changes, technologies deployed, and opportunities impacting field organizations.
What are the challenges these organizations face in achieving these high levels of quality work? How does the changing and constrained talent/workforce impact field service organizations?
The IDC report uncovered compelling data and strategic insights into the current state of field service businesses. In this post, we'll take a closer look at how quality work is key to field service excellence.
Customer expectations demand enhanced value and experiences
Today, service models are shifting to being more proactive and less reactive; and in doing so, becoming better at predicting when a failure will occur. Elements include predicting which resources are needed, how to resolve the issue, and avoiding product downtime to avoid customer dissatisfaction. IDC research shows that only one-quarter of organizations surveyed plan to have most service be reactive, break/fix in the coming 12-24 months.
However, some field service organizations feel that making the leap from reactive to proactive, predictive, or prescriptive services can be more difficult for organizations leveraging a homegrown or no field service management (FSM) solution than those invested in purpose-built field service management technology (see Figure 2 from the report).
Figure 2 - Reactive to Proactive Service Model Shift Demands Real-Time Insights
What type of service model best characterizes the majority of service work currently?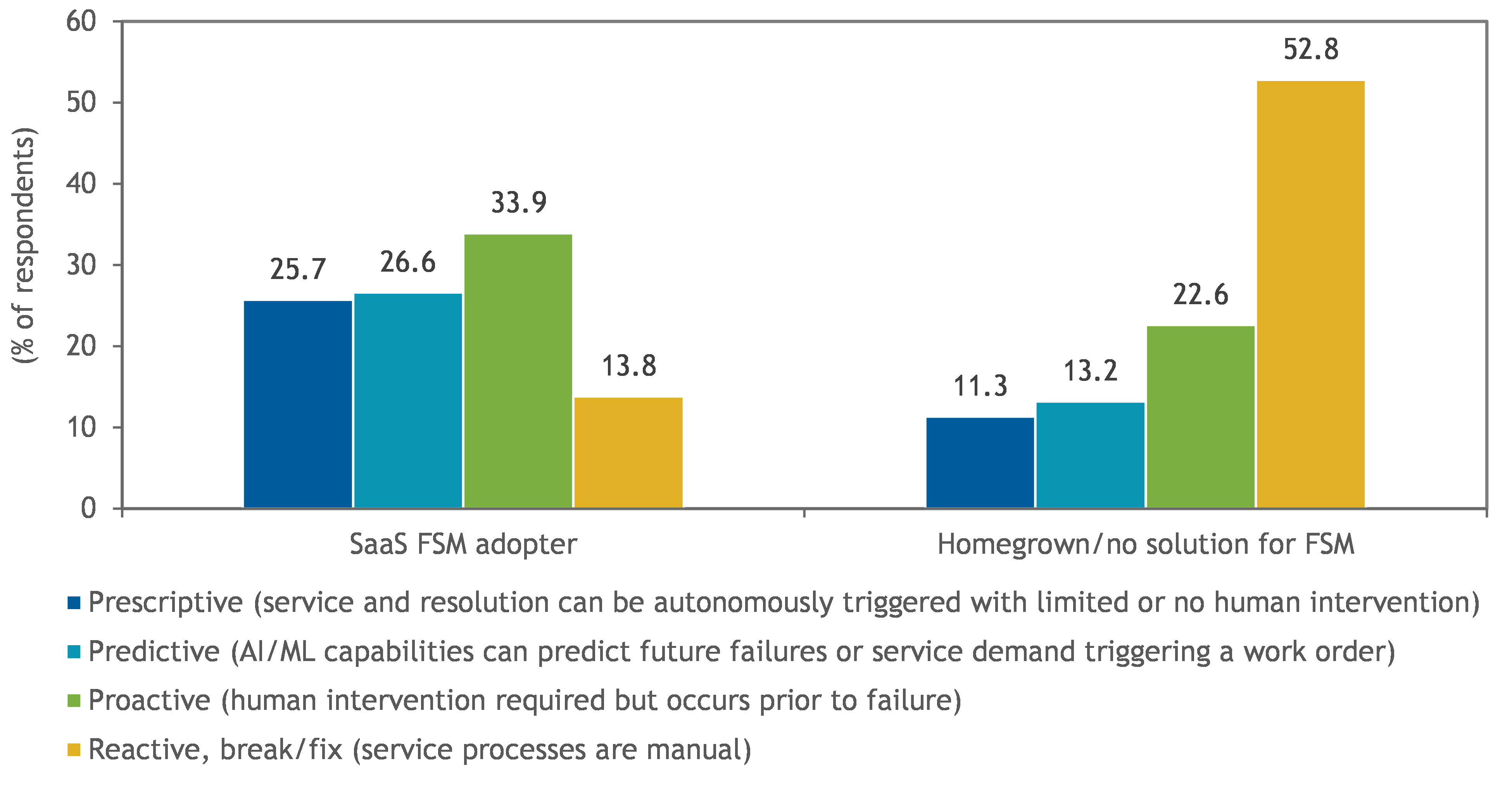 n = 109 (SaaS FSM adopter), n = 53 (homegrown/no solution for FSM)
Note: Use caution when interpreting small sample sizes.
Source: IDC, 2022
Workforces need the right tools and technology
The report found that higher or equal levels of quality outcomes can be delivered by contractors if equipped with mobile technology capabilities and insights to ensure there will not be an associated drop in service level agreement adherence. In short, that means companies who equip their blended workforce with the right tools and technology can position themselves for higher field excellence.
The IDC survey research highlights that in North America and some European countries (i.e., the United Kingdom, Germany, and France), third-party contractors could deliver higher levels of quality service (39.0% and 29.7%, respectively) or at least the same level of quality (35.4% and 45.3%, respectively) as internal teams.
Get more detailed insights
Overall, the field service customer experience is a crucial touch point to positively impact the customer experience and service organization relationship. As this set of processes becomes more critical to success, the ability to be agile, dynamic, and responsive to customer shifts in demand has required service organizations to evaluate the use of third-party contractors to meet demand and execute work.
ServicePower has the experience of working with organizations that deploy a blended workforce. With ServicePower's blended workforce solutions, companies can intelligently manage employed and contracted service providers. As mentioned, predictive maintenance is a strategy that deploys technologies to detect anomalies and possible defects in equipment. ServicePower leverages IoT solutions to provide high-quality predictive maintenance to help organizations stay proactive – and mitigate issues before they arise.
Looking for more IDC insights on how to augment your field service excellence?
Download the full "Field Service Excellence Drives Enhanced Customer Experiences and Outcomes" report for more analysis on this insight and the other key insights uncovered.