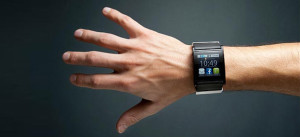 Just as the mobile device market has begun to flatten, another technological trend is just breaking into the market; wearable technology. Once just a cool concept, wearable technology such as Google Glass (smart glasses) and Fitbit (smartwatch) is an actual reality. In February of this year, research firm Canalys states that wearable technology is set to become a "key consumer technology" this year. They also predict that smart wristbands will grow from 8 million this year to 23 million in 2015. Though primarily consumer focused at the moment, wearable technology shows promise in the field service industry. But with organizations still trying to get their heads around mobility and all that it demands (policies, mobile device management, data strategies, etc.), is wearable technology in field service's near future?

Brandon Webber and Masoud Loghmani of Accenture say yes. They believe that collaborative technology and wearable technology will be adopted by field service organizations rapidly, due to the way field techs already relate to each other. While existing mobile solutions provide field technicians with tools to share customer data, service histories, and technical manuals, techs still prefer to call someone for help when they run into trouble. Wearable tech will enable technicians to still do this without hindering productivity and efficiency. So in what ways will wearable technology empower field service techs? Here are just a few:


Diagnostics & Support:
Google Glass, Motorolo's HC1 Headset Computer, and Samsung's Galaxy Gear Watch (just to name a few) all have video communication technology (like Skype or Google Hangouts) that will allow techs to contact headquarters for help onsite with diagnostics and support. If a field tech runs into a problem at a customer site, wearable technology will help them reach out to a SME to get instructions without hindering their progress thanks to the hands-free convenience.
Safer, More Accurate Navigation:
Wearable technology is set to make travel safer with completely hands free GPS. Google Glass boasts 3-D directions right in your line of vision, which means better accuracy while driving (less missed turns) all while abiding by traffic rules. And of course, this hands-free technology allows a field tech to keep in communication with dispatch while seamlessly following directs, without breaking any laws.
Training:
Imagine being able to give your new employees immediate hands-on training, or refreshing your field techs on various repairs. Wearable technology easily facilitates that. Video capture allows techs to capture their on-site installations and fixes to use for future trainings.
Wearable technology is perfect for the field service industry, an industry that works with their hands. By providing mobility in a hands-free, accessible version, wearable technology will help keep field techs safe and productive. Combined with the ideology of M2M and connected service, wearable tech will take field service to a new level. In fact, Gartner predicts that by 2017, smart glasses alone will save the field service industry up to 1 billion USD annually. While organizations will have challenges to sort out like security measures and MDM, wearable tech should definitely be the future of field service from a device perspective.