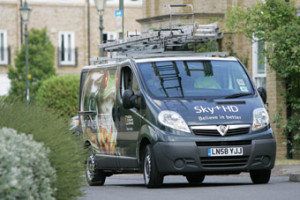 A while ago on our blog we published a piece explaining that all field service scheduling solutions were not created equally. We explained that while there are many marketing terms used to spin scheduling solutions to sound comprehensive and powerful, there are only a few on the market that offer true optimization for field service organizations. We have decided to create a series highlighting the concept that not all aspects of field service management solutions are created equally across the competitive landscape. Today we want to talk about street level routing.
In layman's terms street level routing is calculating the time and route from destination A to B using street networks. People do this every day using maps, atlases, Google Maps, etc, but the problem is, if you are calculating hundreds of routes at the same time how do you do so efficiently but still accurately?
Travel time affects field service delivery in a number of ways. If traffic and optimized routes are not take into account when travel times are calculated; appointment times, overtime, customer expectations and fuel costs are affected. The more accurate travel times are, the more efficient your work force, and the less costs you incur.
Most field service management providers offer some sort of routing for field techs as part of their solution. The most basic of routing involves straight line routing, not street level routing, calculating the time directly from A to B if you were to draw a straight line from one point to the other. This is also known as "as the crow flies," or "line of sight" routing and is very inaccurate, particularly if it routes you straight across a river or mountain.
Other FSM travel calculations are done by calculating from the center of one zip code to another (centroid travel). This is relatively accurate if your technician is located close to the center of one zip code and is heading to a customer site near the center of another zip code. But what if the customer site is in the remote corner of another zip code? Then your travel estimate is far from accurate.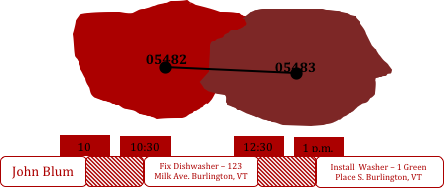 If your estimate ends up being relatively close to the actual travel time, your workforce efficiency isn't effected. However if the calculation is off, your technician's whole day is affected. If the appointment is towards the end of the day, it pushes the next one into overtime. Depending on your organization's set parameters, this appointment will have to be reassigned or rescheduled for another day, affecting your customer service and your technician productivity.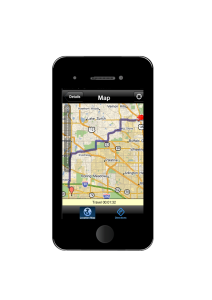 ServicePower has also considered routing an important part of the field service efficiency equation. Far before other FSM vendors, ServicePower offered time of day travel calculations. Now we have taken things even further. Our travel calculations work on various layers; first the street matrix, then the 5 digit zip codes, then 8 digit zip codes to provide more accurate travel calculations in the fastest way possible. With this extra level of accuracy and ServiceScheduling's ability to use these calculations as well as skill sets, and more, you get a truly optimized scheduling experience, reducing your costs and maximizing your productivity.
Our routing brings estimated and actual travel times much closer, meaning less jobs will be put in jeopardy, and more space in technicians' schedules will open up for optimal technician productivity. Overall, using our routing simplifies the setup and manageability for the planner and gives more accuracy for the predicted schedule.
Do you understand what you are getting when a vendor says they offer street-level routing? Make sure they explain it to you. For a more in-depth understanding of our routing and the other key features of our field service management products, schedule a demo with us today.