Customer Service Ratings and Profits
Given customer ratings' direct effect on profits, field service companies must do everything in their power to deliver the best possible outcome during every single appointment to earn positive reviews. Customers expect a seamless, modern, self-service experience that adapts to and fits their lifestyles--and they expect it every time.
As noted in Forbes, your online reputation statistics are your biggest asset, or your biggest liability:
90% of consumers read online reviews before visiting a business
Online reviews have been shown to impact 67.7% of purchasing decisions
84% of people trust online reviews as much as a personal recommendation
74% of consumers say that positive reviews make them trust a local business more
Every one star increase in a Yelp rating means a 5 to 9% increase in revenue
82% of Yelp users said they typically visit Yelp because they intend to buy a product or service
Learn how to predict, manage, and transform customer ratings in the field service management industry.
Common Challenges for Field Service Companies
Most modern field service organizations face challenges when trying to deliver a seamless, modern, self-service customer experience. Many are behind the times when it comes to using the latest and greatest workforce management solutions. As a result, leaders of these organizations experience these pain points on a daily basis--pain points that negatively affect their bottom line:
Managing complex day-to-day operations through multiple siloed systems is laborious, confusing, prone to errors, and inefficient
There isn't a way to translate customer data into measurable and trackable KPIs
Field service technicians have a limited view into customer service history, approaching service appointments more reactively, with lower success rates
Field service technicians arrive late, often driving long distances to appointments when another nearby technician may be available
Company growth is stalled due to poor performance ratings, low First-Time Fix Rates, and resulting negative customer ratings
To address and remove these pain points for leaders of field service companies, employed and contracted technicians, and your valuable customers, leaders must invest in field service automation, or be left behind.
Are you tracking all five stages of the field-service customer journey? Find out with our free ebook.
Below, we'll dive into the following topics:
What customers expect from modern day field service organizations
How customer ratings affect your overall bottom line
Ways to automate and streamline operations
How to select field service management software
What Customers Expect from Modern Field Service Organizations
People expect the service providers they hire to utilize the same advanced technology they use in their everyday lives when it comes to scheduling appointments, routing invoices, communicating about where technicians are and when they'll be there, and more. To thrive as a field service management company, it's crucial to employ similarly powerful smart automation technology to run your business.
Since your technicians service your customers outside of a central office location, it's absolutely critical to empower technicians--both employed and contracted--with the right tools to deliver the best 360 degree customer experience.
According to Field Service News:
"AI technology will make strides in streamlining the customer experience. Chatbots will troubleshoot issues with customers, determining all necessary information before dispatching a technician. Powered by machine learning, chatbots will understand if a customer needs assistance in resolving an issue or wants more information about a certain piece of equipment….AI will also automate the technician's workflow. One of the biggest pain points in customer service – particularly field service – is dispatch time. To combat this, heuristic search functions in AI technology will determine which technicians are not only available but also knowledgeable enough to properly service the request."
In 2019, the choice is simple: meet the expectations of your evolving customers, who are becoming more technically savvy and connected with each passing hour.
Adapt and adopt advanced automation technologies to better serve your customers, or continue to struggle with customer communication, scheduling, parts inventory, and other bottlenecks that negatively affect your bottom line.
Check out the top five field service industry trends of 2018 that are continuing into 2019.
Customer Ratings and Your Bottom Line
You know your customers expect a lot when it comes to communication, convenience, and effectiveness. And if you can successfully deliver in these areas, you'll see the difference in the quality of your customer ratings.
When it comes to supporting your bottom line, field service company customer ratings are the gateway to increasing profits.They're also the gateway to losing customers.
Read more: Today, Someone Lost a Customer
When you manage your field service employees and contractors from separate systems, it leads to inefficient HR processes and embarrassingly slow response times when the wires are crossed. Customers cancel appointments, employees have sick days, and parts sometimes aren't the right fit. When you have a system that is prepared for anything and integrates all of your operational components, you save time and customers.
How does field service automation help technicians?
Keeping your customers happy is paramount to any field service company, but if you don't have trained technicians who feel empowered to effectively do their jobs, your entire operation is at risk. That's where field service automation can offer technician support unlike anything your technicians have experienced.
Thanks to intelligent, proactive field service apps, your mobile workforce can connect with and assess customer needs before arriving to appointments. Getting real-time access to work order information gives each technician a direct view into the customer's history, the customer's pain points, any special instructions, and available parts so they can achieve their mission: fixing the customer's appliance.
Read about 3 Ways Mobile Capabilities Enable Field Service Technicians.
In addition to empowering technicians with relevant customer data that's constantly refreshed via the cloud, technicians will be delighted to drive less, as automated work order scheduling software will select the right technician based on location, skills, and available parts inventory.
Learn more about five technologies that field service technicians need to be first class techs.
How does field service automation help customers and boost customer ratings?
Once your technicians and customers interact with easy-to-use field service apps, you'll notice an increased level of satisfaction across every area of your field service company, from the inside out. As you increase efficiency, it translates directly into higher First Time Fix Rates – your customer's main concern.
Previously manual tasks like responding to inquiries, scheduling, assessing parts inventory, invoicing, and following up become automatic. When customers feel at ease that your field service company is evolving right alongside modern technology, they'll express it by way of positive customer ratings that drive even more inbound leads to your sales team.
The Customer Experience Revolution in IOT: From Data to Action
Ways Field Service Companies Can Automate
We've explored what customers expect from modern field service organizations in 2019, as well as how field service apps boost both technician and customer satisfaction and ratings. Let's dive into the nuts and bolts of how to field service automation actually works at a features and functionality level.
Read why the drive to be better starts with your customers
Which field service management features you should look for and what are the benefits of each?
With the explosion of modern technology, we know that customers simply expect more from their service providers. They expect field service management companies to have readily available and easy-to-use applications that make scheduling, payment, and the overall experience easy. When evaluating field service automation applications that your mobile workforce and customers will interact with, seek out solutions with features that simplify and streamline.
Explore these foundational features that your field service management software should offer your customers and your technicians.
Customer Engagement
With busy schedules and competing priorities, your customers want to be able to communicate directly with en-route technicians, in real-time. If they can't do that, they will be frustrated. Find a solution that offers advanced customer engagement features like technician location alerts, full self-service from any device, and more.
Schedule Optimization
It's difficult to schedule technicians at convenient times for customers. You need the right technician with the right skills and the right parts in a nearby area--and you need to respond to customer requests quickly. Explore field service automation apps that offer schedule optimization capabilities that assign and route technicians without time-consuming human intervention.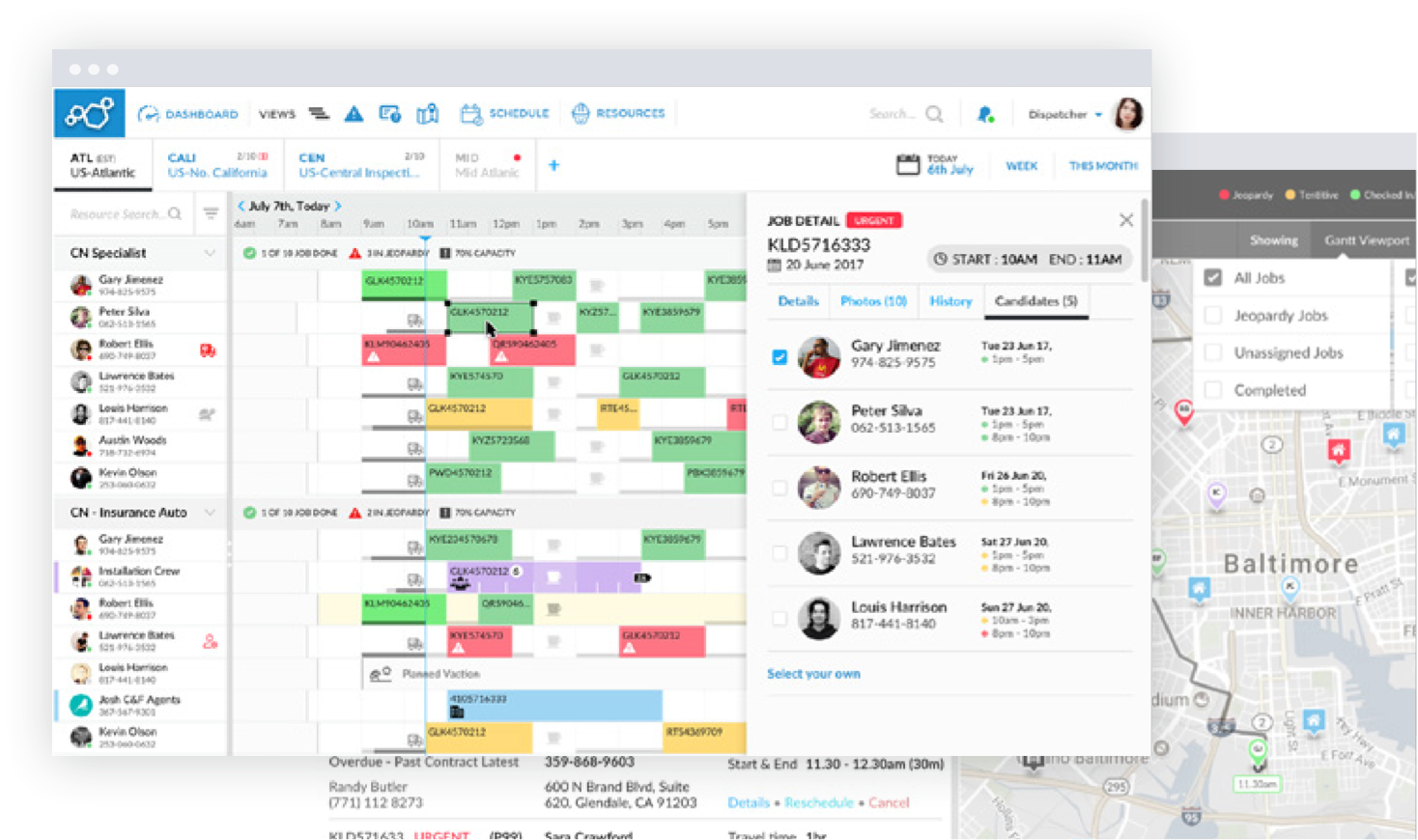 Mobility
In 2019, it's all about mobile accessibility. Make sure your mobile workforce management solution enables technicians to securely carry out field service functions at all times and places, during and between jobs, to maximize their productivity.
Contractor Management
Your employed technicians serve as the backbone of your field service company, as they're expected to perform the fixes as quickly as possible during an appointment. But your employed technicians aren't always available. To effectively manage and dispatch a hybrid workforce of employed and contracted technicians based on changing customer demand, you need faster, smarter service in the form of automated contractor management features.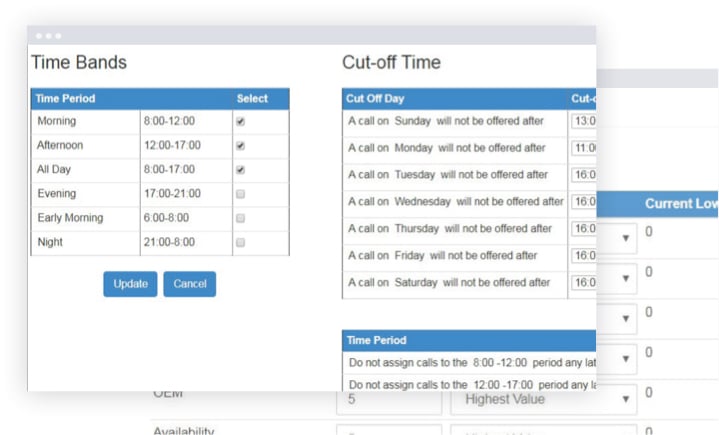 Warranty Claims Management
Once your hybrid workforce services these customers and fixes their reported issues, they will enjoy using warranty claims management features that automatically submit, track, and validate claims in real-time to increase visibility and reduce turnaround time.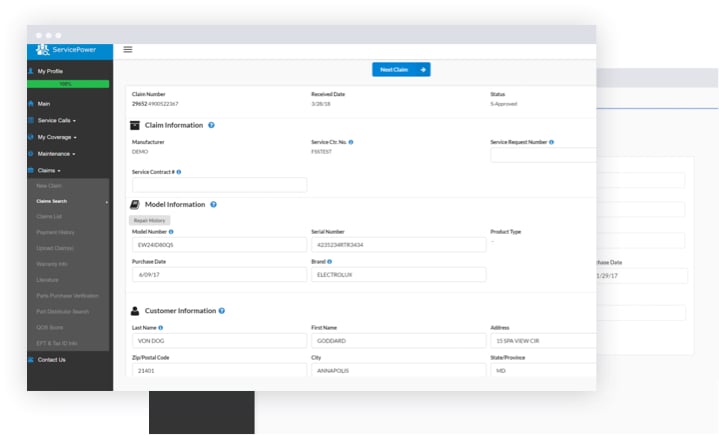 Business Intelligence
With previously manual and time consuming tasks now automated, this frees up loads of time to focus on business growth initiatives. In order to assess how your field service company is performing, you need access to business intelligence capabilities that transforms data into real-world intelligence. Enjoy easy access to dashboards, alerts, and reports that remove the stresses of decision-making without KPI insights.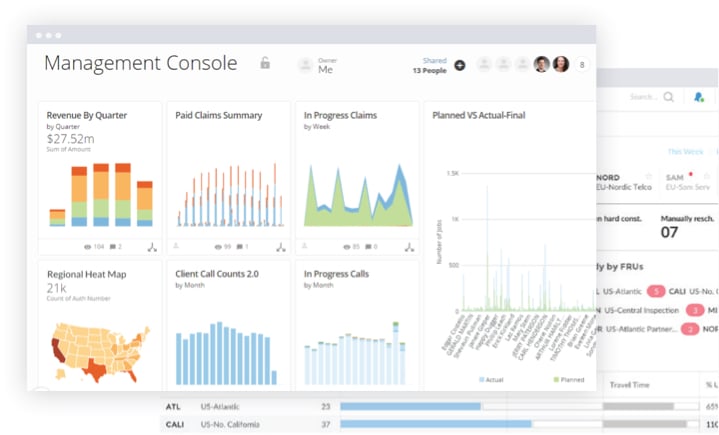 IoT Enablement
To keep up with the exploding amount of IoT connected smart homes, be sure to select a field service app that provides proactive service for the connected home. Look for solutions that are able to identify pre-failure conditions and deliver predictive maintenance--a game-changed in the modern field service industry.
Read more about IoT connected smart homes.
Customer experience is king. Do you know how to make your field service customers happy?
How to Select Field Service Management Software
Once you're clear on what customers expect from modern day field service organizations, how these customers' ratings affect your overall bottom line, and ways to automate and streamline your company's operations, it's time to select the right field service management software.
What are the best workforce management software options?
Stay on the cutting edge by ensuring your workforce management solutions goes beyond basic functionalities
You'll want to make sure that the workforce management solution you choose goes beyond the basic functionalities of scheduling and dispatching technicians to customer appointments.
To experience tangible ROI post implementation and deployment, you need to select a field service app that uses AI and predictive analytics to proactively anticipate what your customers may want or need.
The best options for field service management software must offer the following:
An intuitive mobile application interface
Simple communication tools that connect all areas of the internal and external business
One integrated place to manage both employed and contracted technicians
Data storage capabilities in the cloud
Integrated GPS to assist with smart and automated scheduling and routing
Each provider will offer different bells and whistles; however, the above mentioned features are crucial to put your field service company on the cutting edge. Ultimately, it's important to examine your company's current pain points, document them, and explore how each feature and functionality of the software can streamline operations.
Get more tips on how to select the right field service management software.
How to implement field service management software
Once you've identified the field service app that's best for your business, it's time to start thinking about your implementation.
But before you jump right into using a cutting edge automation platform, it's crucial to be conscious of how you approach change management within your field service company.
A few tips to ease the transition to field service automation:
Present the change to your employees in a collaborative, team-oriented way so they feel part of the change and feel open to offering feedback
Emphasize the benefits of using field service automation apps
Provide as much training and coaching as your employees need to feel comfortable using the new platform; avoid long lectures and plan hands-on workshops that let employees engage with the software
Put yourself in your employees' shoes and give them time to adapt to following new processes and using new technology
Act as an example to your employees by embracing and utilizing the software on a daily basis
View the 2019 Guide to Field Service Management Software.
Discover the AI Difference For Yourself
Thanks to proactive new functionalities, predictive AI is now behind customer engagement, schedule optimization, mobility, warranty claims management, contractor management, business intelligence, IoT enablement. This artificial intelligence anticipates customer needs and employs the right technician, at the right time, to get the job done right the first time.
As a leader in a modern day field service management company, you can empower technicians to solve customer problems quickly and efficiently with powerful field service apps that leverage AI. Increase your customer service ratings and profits will follow.
Ready to transform your field service organization? Learn more about field service apps can modernize your day-to-day field service operations to improve customer satisfaction and drive measurable growth.