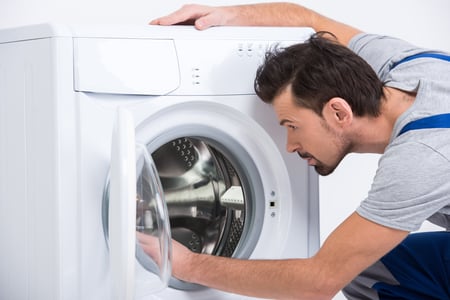 The field service industry is an amalgam of unique businesses and as such requires the merging and coordination of a range of business strategies, metrics, and coordination strategies. If you dissect field service businesses into their component parts you'll find:
Technical support.

Trucking, transport and delivery with associated logistics.

Customer service.

Supply management and warehousing.

Lone worker dynamics.
Each component has its technologies and methods that have to be combined into working operations in the field service industry.

Most field service operations involve installation, troubleshooting and repair. The industry covers everything from agricultural equipment to IT. Managers of technical support teams are usually promoted from among the technicians themselves. Their primary skills are in technical troubleshooting and operations. The day-to-day operation of their jobs has as much to do with personnel management and logistics as expertise in the area where his or her team is focused. This presents a challenge.

Technical support is fundamentally, also a customer relations function. The field service worker is the front line representative of any company. Often technical focus and customer service are at opposite poles of the human personality spectrum. The customer relations side of technical support is frequently a management challenge.

Logistics management involves control of supply chain functions--the timing, location, and supply functions for a moving and dynamic organization. In some field service organizations, logistics includes a warehousing and just-in-time delivery function as well. The backgrounds of most field service managers does not include up-to-date knowledge of logistics methods. These gaps represent a challenge.

Most field service industry workers are alone in the field most of the time. Almost all industrial managers have lone workers in their operation, but field service companies work with lone workers most intensively. Lone workers require special supports like dispatching, regular safety and security checks, special two-way communication needs. Providing sufficient support and supervision for lone workers is, itself, a significant challenge. Field service companies implement high-powered schedule optimization and mobile software into their management capability.

Then, organizations in the field service industry need unique metrics to monitor their success and the performance of their employees. The technical management side of the industry is concerned about input variables like:
Number of calls its employees make.

Mileage and time metrics.

Expenses.

Material and equipment costs.
and most importantly, output variables like:
Percentage of the service calls leading to a successful repair.

Customer satisfaction metrics.
Sales variables:
Renewed contracts.

Income.

Profit against overhead.
As the use of technology expands and enters more homes and offices, the field service industry and field service organization companies can expect rapid expansion. The field service market is expected to grow from $1.97 billion in 2015 to $ 5.11 billion by 2020. The need for a centralized system for the complex management of field services and the ever evolving demand for increased operational efficiency and reducing the costs fuels the growing need for centralized field service management systems.
Schedule and dispatch systems will be the largest contributor to the solution as it helps field workers to smartly schedule tasks, routes, and daily processes. A streamlined dispatch process makes managing calls easier for field engineers and technicians.Various field service management systems are big data systems that include
Job scheduling, route optimization and dispatch.

Locators for trucks and client locations.

Remote supervisory tools.

Work order management.

Mobile field execution.

Customer management. Reporting dashboards.

Billing and invoicing.

Inventory management and tracking.

Performance management metrics.
Like other big data management tools, field service management systems are increasingly taking advantage of cloud infrastructure that makes them scalable and accessible throughout the organization. Field service organizations are also turning to consulting services to deploy effective field service management systems to meet their business objectives.