Field Service
Dispatch Software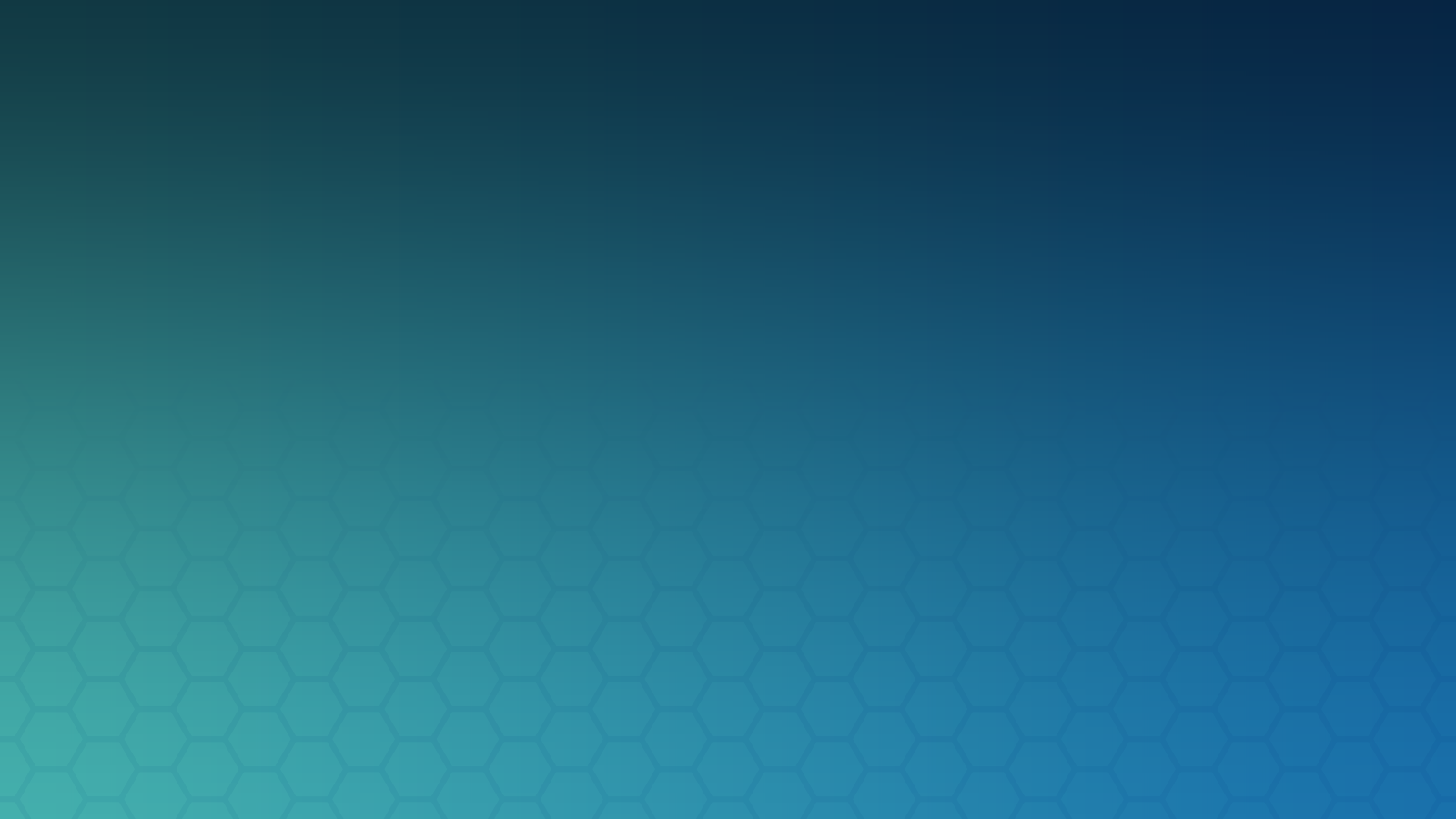 Ensure only the most qualified contractors are dispatched by automatically assigning jobs based on
your unique criteria. Automatically dispatch the best field resource, always ensuring the most qualified resource shows up at the right place and at the right time, so your customer receives the best possible experience.
Learn more about dispatching in field service with our complete guide. Click a card below to jump down to that section.
What is Dispatching?
Dispatching is the process of assigning contractors or employees to fulfill services for a customer. In the field services industry, customers schedule services in advance and a field technician is dispatched to the appointment based on their skills, coverage, availability, and location.
What is Dispatching Software?
Dispatch software is a digital app that automatically assigns jobs to field service technicians. The software selects technicians based on eligibility criteria, customized rules and rankings, and scheduling logic. The best dispatch software can assign jobs to various workforce types, such as third-party, employed, or blended workforces.

Dispatch Scheduling
ServicePower's dispatch solution intelligently schedules and dispatches your workers. With criteria-based scheduling, the software can directly assign jobs to field technicians based on a standardized process and a variety of criteria, such as:
Eligibility: skills, coverage, etc.
Rules: preferred suppliers, partnerships, etc.
Ranking: contractor costs, reject rates, etc.
Scheduling Logic: availability, locations, etc.
This custom logic dynamically adjusts service job workloads dispatched to field service technicians to meet fluctuating demands. It also enables field service providers to meet unique, or changing business requirements.
For instance, field service managers can control which zip codes their technicians are dispatched to based on locality. This enables maximum efficiency and improves profitability.
Dispatch Management
Effective dispatch management requires access to real-time data and the ability to adjust services accordingly. With ServicePower Dispatch, field service managers can access contractor availability and field status updates on in-progress jobs, all in real-time.
By improving visibility into job progress, and automating reporting, end-to-end service workflows are simplified. Automating tedious tasks not only reduces the chance of errors but also allows field service managers to get out of the weeds and spend their time focusing on the bigger picture.
In this modern age, accessing data is essential to effective business strategies. Dispatch has comprehensive analytics with visualizations and reporting across the workforce, allowing managers to conduct and present powerful data-driven analyses. With access to easy, real-time dashboards and visualizations, managers can present their findings and demonstrate exactly how effective their strategies have been without ever leaving the platform.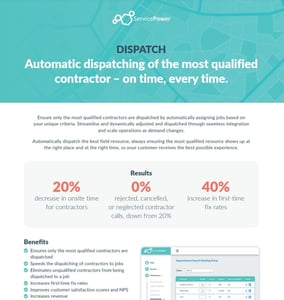 Contractor Search
As the workforce is aging and the labor pool is decreasing, it is becoming more and more difficult to access the number of technicians necessary to remain successful in the field services. Expanding service capacity with contractors and freelance technicians is an essential part of meeting the changing demand for field services while staying ahead of the service technician shortage.
With intelligent integration of third-party service contractors, field service managers have access to a larger pool of qualified, ready-to-work technicians. This guarantees the expansion of a service provider network, both quickly and at a lower cost than hiring permanent technicians.
Contractor search makes finding the best fit a quick and easy process, with the ability to create custom, predetermined performance criteria. This means access to additional technicians at the exact moment they are required, with an efficient process to search and find the best technician for the specific job. With access to a wider range of skills, finding the most qualified and geographically relevant technician is easy, and ensures each job is completed to the high-quality standards that customers expect.
Dispatch Software Benefits
Dispatch software provides invaluable insights and facilitates data-driven decisions that set field service organizations up to succeed.
There are numerous benefits to leveraging dispatch software, and ServicePower Dispatch is the only field service software that can dispatch to a contracted, employed, or blended workforce.
Here are just a few of the main dispatch software benefits:
Dispatching to a Blended Workforce
A blended workforce is a labor pool composed of workers on different contracts, such as full-time or part-time employees, contractors, and freelancers. By leveraging contractors when the workload exceeds the capacity of the full-time employees, companies can more readily meet the changing demand in their industries.
Benefits of a Blended Workforce
The ability to augment service provider networks quickly and at a lower cost than hiring permanent employees
Increasing the geographical range of the service network otherwise not possible
Expansion of services provided to customers due to the new range of skills and the broadened knowledge base of contractors
Increasing service flexibility and efficiency across a broader network
Faster time to market utilizing when contractors with an existing field service experience
There are numerous benefits to employing a blended workforce because contractors and employees both bring unique advantages to the table. However, there is often confusion about the exact difference between contractors and employees. Read our blog post to understand the difference and which is better for field service management.
The Role of Field Service Technicians
A field service technician can be an employee or an independent contractor and is responsible for helping clients install, repair, and maintain service equipment. When equipment malfunctions, a field technician is dispatched to troubleshoot the problem promptly and maintain positive customer relationships.
Field Service Technician's Responsibilities:
Providing service and customer support during dispatches
Managing all on-site installation, repair, and maintenance
Diagnosing errors and technical issues and determining the best solution
Producing timely and detailed service reports
Operating vehicle safely and following all company protocols
Cooperating with a team and sharing information across an organization
Building and maintaining positive relationships with clients
Mobility is an important aspect in maintaining the daily operations of field technicians, as they must physically move to different locations to complete service jobs and retrieve service equipment from various warehouses. Due to the transportation requirements, remote and mobile access to information is critical to job success.
Dispatch App
Empowering technicians with mobile access to data allows them to assess the service situation as a whole and is what sets exceptional services apart from outdated, manual services. ServicePower's integrated mobility app optimizes operational efficiency, streamlines technician communication, increases technician productivity, and improves the customer experience. Field service managers can rest assured that the most qualified technicians will be dispatched, with access to real-time work order and scheduling, map and location services, and parts and inventory management.
Mobility App Capabilities include:
Work Order and Scheduling Management: end-to-end work order management, dynamic schedule of workload and activities, rules-based data collection forms, provide estimates, and invoice creation.
Parts and Inventory Management: inventory search, usage, Reuters and ordering history, parts catalog, inventory, and pricing information, manage inventory parts orders, locate parts, and adjust inventory.
Mapping and Location Service: real-time traffic and ETA updates, job status and GPS location notifications, customizable triggers and alerts.
Customer Engagement: on-site promotional offers and signature capture, in-field payment processing with customer invoices, and customizable surveys.
Accessing information on the go is no longer optional in the modern business world, it is necessary to provide customers with the quality of service they expect and deserve. This holds across numerous industries, as communicating and dispatching to remote technicians is common in many fields.
Dispatch Service Industries
Dispatch is designed to intelligently serve numerous industries, with custom features that enable each organization to define and adjust their needs accordingly. Dispatch can provide tangible value for organizations that need to dispatch to a contracted, employed, or blended workforce across numerous industries.
Every industry has its challenges, and ServicePower delivers customized solutions that continually provide excellent service experiences to retain customers, from installation and delivery to maintenance and equipment repair.
Here are a few of the industries that ServicePower expertly serves:
Appliance Service:
ServicePower automates and innovates the contractor management process across manufacturing, appliance OEMs, and home appliance services. This includes improving the customer experience, increasing first-time fix rates, and improving operations and service profitability. Learn more about ServicePower's industry-specific home appliance and manufacturing solutions.
Home Warranty:
ServicePower streamlines the warranty claim processes and greatly improves the customer experience. With the ability to leverage over 4,000 active third-party service providers, home warranty service work is possible regardless of fluctuations in service demand, without sacrificing service quality. Learn more about ServicePower's industry-specific home warranty solutions.
Property management:
Property managers can minimize turnover time and keep on top of tenant maintenance requests with control and visibility into your techs' schedules so they're productive and happy. The right field service management solution ensures the most qualified tech shows up for the job with the right parts to get the job done the first time, every time.
Telecommunications:
The telecom industry has evolved significantly over the past few years thanks to technological developments that have enabled faster, more streamlined work processes. Utilizing these field technologies helps telecom companies increase service flexibility and scalability, maximizing profits and exceeding customer expectations.
Insurance:
Customer retention is paramount in the insurance industry. With ServicePower, insurers can reduce the time on site, better enable adjusters, and automate the claims process to increase policyholder satisfaction and improve the bottom line. Learn more about ServicePower's industry-specific insurance solution.
Security:
When security companies dispatch field service technicians to a job site, it is necessary to ensure that they have the right information and the tools to accomplish the task. ServicePower helps improve SLA compliance and optimize costs while delivering an exceptional customer service experience. Learn more about ServicePower's industry-specific Security Systems solution.
Want to learn how field service dispatch software can transform your business to drive customer satisfaction and profits?
Get Started