With the rapid advancement of technology, there are new tools that help field teams to supercharge their productivity and reduce costs dramatically for the firm. Dispatch software is now integrating these tools to help companies move faster, be more efficient and achieve success.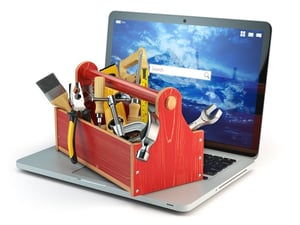 The primary features include optimized routing, calling and scheduling for field team members. With these installed, companies are taking advantage of new technology and rapidly improving productivity.
Routing
One of the biggest headaches for field teams is routing their personnel to the right location at the right time. It is hard to determine the easiest way to group appointments and travel to minimize the time spent outside of the work site.
For example, imagine a team making service calls in McLean, Reston, Springfield, Alexandria and Fairfax Virginia. While they are all in relatively tight area, the routing decision based on traffic patterns, distances and expected times at the sites is quite complex with dozens of plausible decisions. Routing solves this chore and provides the optimal choice automatically.
Calling
Clients are often eager to get in contact with field-service personnel. However, they often only have the main service line number. At the same time, field staff do not want to give out their personal cell phones or contact information that would allow clients to contact them any time day or night. For that reason, automated calling solutions for dispatch software are a big step forward.
These tools allow clients on site to call personnel with questions about their facilities etc. by dialing directly into a main line. They are re-directed to the correct person without the intervention of a costly administrator or receptionist. If they are available to take a call, wherever the field person is they can comfortably answer and reply to queries. This dramatically improves the customer experience. It can also help to avoid a costly visit to a site that could be avoided.
Scheduling
The final new feature is site scheduling. Field teams must plan their schedules weeks or even months in advance. However, the traditional method of using an assistant to carefully put all of the events in a central calendar is no longer efficient enough.
Today, automated scheduling tools are stored in the cloud so that all workers have access to them, no matter if they are at the office or logging in from a mobile device on the road. Secondly, the feature must account for the other opportunities on the same day. Working with the routing feature, site visits are scheduled in the optimal time and place. Of course, the scheduler only appears during days and times that the team is working. Lastly, it includes a database of the tools and skills required for each site visit. If those are not available at the time requested, the software does not permit it to be booked.
For example, imagine an insurance claims team that has to determine damages of various fixed assets. Whether it is a building, manufacturing equipment or another item, special tools are required for measuring and recording the damage. Additionally, only certain people are capable of evaluating certain damages. Finally, the teams all want to be scheduled so as to optimize their time between locations. Only an advanced and automated scheduling tool can handle all of these tasks at the same time.
Decrease Overtime hours, Reduce Travel Costs and Improve Productivity

The features above have made a huge impact on the value of dispatch software. Today, companies can use these tools to reduce overtime work, reduce travel costs and improve productivity. Even better, firms do not need extra, costly administrators at HQ routing calls, filing papers and directing the team. Instead, these processes are all automated. In the future, companies that do not adopt these technologies will be left behind.
Contact ServicePower www.servicepower.com today for more information about new dispatch and routing software for field-service technicians!