Improve your Appliance Customers' Service Experience while Protecting Warranty Reserves.
---
In the highly concentrated, and competitive major appliance industry, manufacturers need to continually differentiate the brand to drive long term repeat sales, with
new, convenient features – and the best post-sale service.
In a market with narrow margins, appliance manufacturers also need to drive operational efficiencies to improve profitability and protect warranty reserves.
ServicePower's
field service management solution improves your appliance customers' service experience while protecting reserves and improving operations and service profitability.
For appliance manufacturers - and service providers such as third party administrators or home warranty providers servicing appliance products - our solution offers: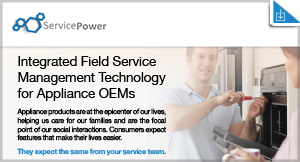 ---
"Our field service operation
has improved customer service
ratings by three percent and
increased productivity by
16 percent. We originally
planned for a return on
investment within three years,
but recouped the cash outlay
in one year."

- General Manager,
North American Appliance Manufacturer
Smart Scheduling Optimization

Assign the best factory service technician using unique skills and configurable cost parameters. Continuously optimize schedules to i

mprove staff productivity and first time fix rates, decrease time to service, improve on time arrival and complete more billable service events every day.
Contractor Management

Manage and dynamically dispatch credentialed, ranked third party service providers.

Improve the customer experience with patented rules based logic and real time contractor availability, providing faster response time and the highest quality service, at the lowest cost.

Warranty Claims Management

Configure custom claims logic, automate warranty claims processing, and perform intelligent audits. Reduce claims costs and stop fraud, protecting and preserving warranty reserves, while also improving claim processing speed.
Our solution provides turn key:
Our smart field service management solutions improve the quality of your appliance customers' service experience, while protecting warranty reserves and increasing the profitability of your service group.
Contact us to learn how we can help your field service organization as well!