[The Continuance]
5) Schedule for Customer Convenience
Scheduling is one of the biggest challenges for customers who need field services. When a customer must be home to greet and supervise work in their home, your goal is to make this as convenient for them as possible.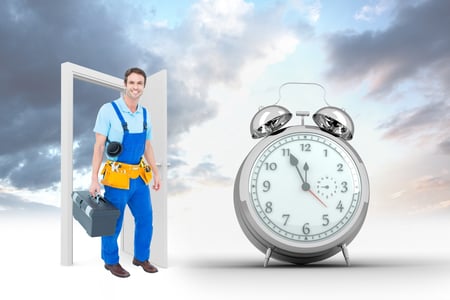 Work with your customers to schedule times that your technicians can be available and they don't have to take any unusual time off work to be present.
The best way to do this is with a self-scheduling feature on your website or app, something that allows customers to pick an available time-slot for themselves. This saves everyone the hassle of comparing and debating times over the phone.
6) Send Timely Reminders
Of course, even when customers schedule for themselves, they still have busy lives. It's all too easy to let the day or week get away from you and forget about a scheduled work order. One great way to personalize your service for customer needs is simply to send timely reminders.
Whether you use email or SMS texting, an automated reminder system is the perfect solution for making sure that customers are reminded and ready for each scheduled service. In some field-service tech platforms, customers can even set up their own reminder timing, to get emails a day before, an hour before, and so on.
7) Stay in Contact
You can't be responsive to customer needs without first having a way to stay in touch with them. Email and phone are great fallbacks but customers will highly appreciate the ability to chat through your website or a field-service mobile app and communicate with the team through text messages.
This is incredibly helpful for both parties. If a customer needs to reschedule at the last minute, staying in contact allows for that. And if you have a way to reach the customer, service teams can ask for directions, double-check their timing, or get in touch ASAP if they get a flat on the road and will be running late.
8) Make Billing Easy
Billing is by far the most delicate step in providing satisfactory field service. Most of all, you want estimates to match the final invoice and to make it easy for customers to pay their bill without hassle.
Your online portal can help you here, as well. Encourage customers to log in to view and pay their bill rather than trying to handle it in the driveway after a service.
9) Provide Customer Service
And never forget that your clients may want additional customer service before, after, and between scheduled work orders. While many field-service businessses have someone manning the phones and answering emails, a real customer service interface will make your clients feel professionally taken care of.
With the right software, such as the ServicePower field-service suite, even a small customer service team can provide top-notch support to your clients and future clients who call in for assistance.
10) Take Suggestions
Finally, listen to your customers when they make suggestions. In fact, ask them what you could be doing better in person or through a survey and really pay attention to what they say. While not all suggestions will be possible, they might have some important nuggets of truth and clues on how to improve your service. When you find a great solution, as the customer if you can credit them when you write about the innovation in your company blog. Even those who want to remain anonymous will be flattered when you use their ideas and every customer you ask will feel a little closer to your brand.
--- Building good customer relationships is all about remembering that everyone involved is a person. By personalizing your services, customers can feel that the work you do is more about them and less about the technical tasks. By building relationships between technicians and customers, you encourage customers to feel friendly with the brand as a whole.
For more information on how to improve your field-service customer relationships, contact www.servicepower.com today!