With the new year comes new goals, resolutions, and issues to resolve. Many of us are coming off of our holiday breaks and getting re-acclimated to work. It should come as no surprise, but the issues that riddled us at the end of 2015 are still on our plates this year. One of the top challenges facing manufacturers and service organizations is the need to deliver high value to a more empowered customer base. This trend has been rising to the surface for some time now, and service organizations in 2016 now have the technology AND ecosystem of partners to deliver on the promise of valuable service resolution.
However historically, even the best service organizations faltered at resolving all of the work orders they scheduled a technician to conduct in a given day. As seen below, every three days your technician will be leaving at least one customer with an issue that cannot be resolved.
Figure 1: Job ALMOST Well Done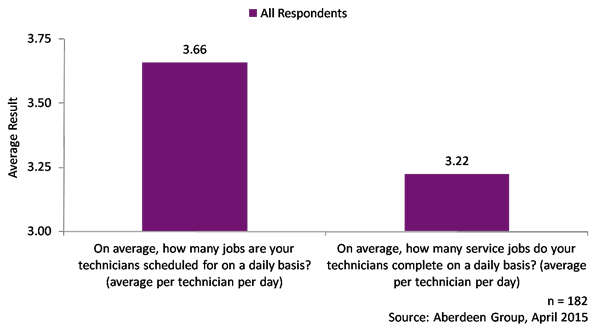 This may seem like just the cost of doing business in the world of field service. But if we multiply this one example globally across a technician base of 150, 500, or 1,000 techs, that small problem with just one customer becomes a major issue for the viability of the service business. Customers have more options than ever before, as the manufacturer is no longer the only company that can deliver service on a piece of equipment. For this reason, it is imperative that service techs solve problems on the first visit and deliver value in each engagement.
These headwinds of a demanding client base and increased competition have made service leaders reconsider their priorities for 2016. The need for faster knowledge of failures or customer issues, along with the capability to schedule the right service resources to deliver resolution in real-time and get that technician to the right customer as efficiently as possible have become primary goals for this year. The problem has been that even with technology, scheduling has been fairly reactionary. For many service organizations, the service team has to wait for a customer to call in a problem, check the availability of resources, schedule a work order, and then dispatch a technician hoping the parts, van, and skill set all match up. This puzzle leaves a lot to chance. Luck has no place in a Best-in-Class service organization. These top performers have prioritized investments in technology tools and infrastructure to connect advanced analytics and field service workforce management to ensure they can modify work based on change in the field and more efficiently deliver service.
Don't let a real-time service world pass you by as you look at your spreadsheets and white boards. 2016 will be the year that separates service organizations who look to continuously innovate through technology, and those that think customers will accept the reactionary status quo. What group do you want to belong to?