As federal, state, and local governments continue to develop responses to the COVID-19 outbreak, business leaders across the country have to adjust their approach to workforce management. Creating a safe and healthy work environment for both your employees and your customers is essential in order to ensure technicians are able to deliver positive results on their assignments, and negative results for COVID-19.
As COVID-19 cases increase, we are sure to see a tightening of policies for service calls. When technicians do conduct in-home repairs, it is imperative that safety measures are in place. So how are workforce management companies adapting to these changes?
A well-run workforce management enterprise will have already had route optimization practices in place. Route optimization aims to maximize time spent on site while minimizing the time technicians spend on the road. An unexpected benefit of this practice during a pandemic is zip code management using intelligent dispatch management software.
What is Dispatch Management Software?
Dispatch management software is a digital application that automatically assigns jobs to field service technicians. The software selects technicians based on eligibility criteria, customized rules and rankings, and scheduling logic. The best dispatch software can assign jobs to various workforce types, such as third-party, employed, or blended workforces.
Benefits of Dispatch Management Software
Despite changing variants and fluctuating regulations, home appliances still need repairs. However, there's an increasing pressure for technicians to come from local areas in order to minimize exposure to illness.
The benefits of a mobile management system mean clients can make rules about what they want in a technician and management can then define which techs are selected based on that criteria. It is more important now than ever to make sure that we are continuing to flatten the curve. By deploying technicians to service homes in the areas they are closest to, you are minimizing the risk of exposure to the people inside those zip codes.
Not only that, if there are certain zip codes with high rates of COVID-19, management can keep their technicians out of those areas to ensure safety.
The tracking of technicians from place to place helps pinpoint exactly where newly infected technicians were working in the days leading up to the illness. This allows for the appropriate people to be notified and both field service techs and customers can feel more prepared in case of an outbreak.
Another positive aspect of workforce management is that customers are able to see when a technician is on the way. If they wish, they can use that time to run essential errands while the technician fixes the appliance and both parties can safely maintain social distance.
This technology also allows for real-time alerts, so you never miss an update. The ability for customers to directly communicate with technicians can allow for resources to be managed from afar. This constant communication between technician and customer can ensure that the customer experience is still positive, even during a crisis.
Tools like ServiceInsight had already been perfecting the execution of a blended workforce right before this pandemic started. This allows for agility, control, and accountability which are all necessary for a pandemic.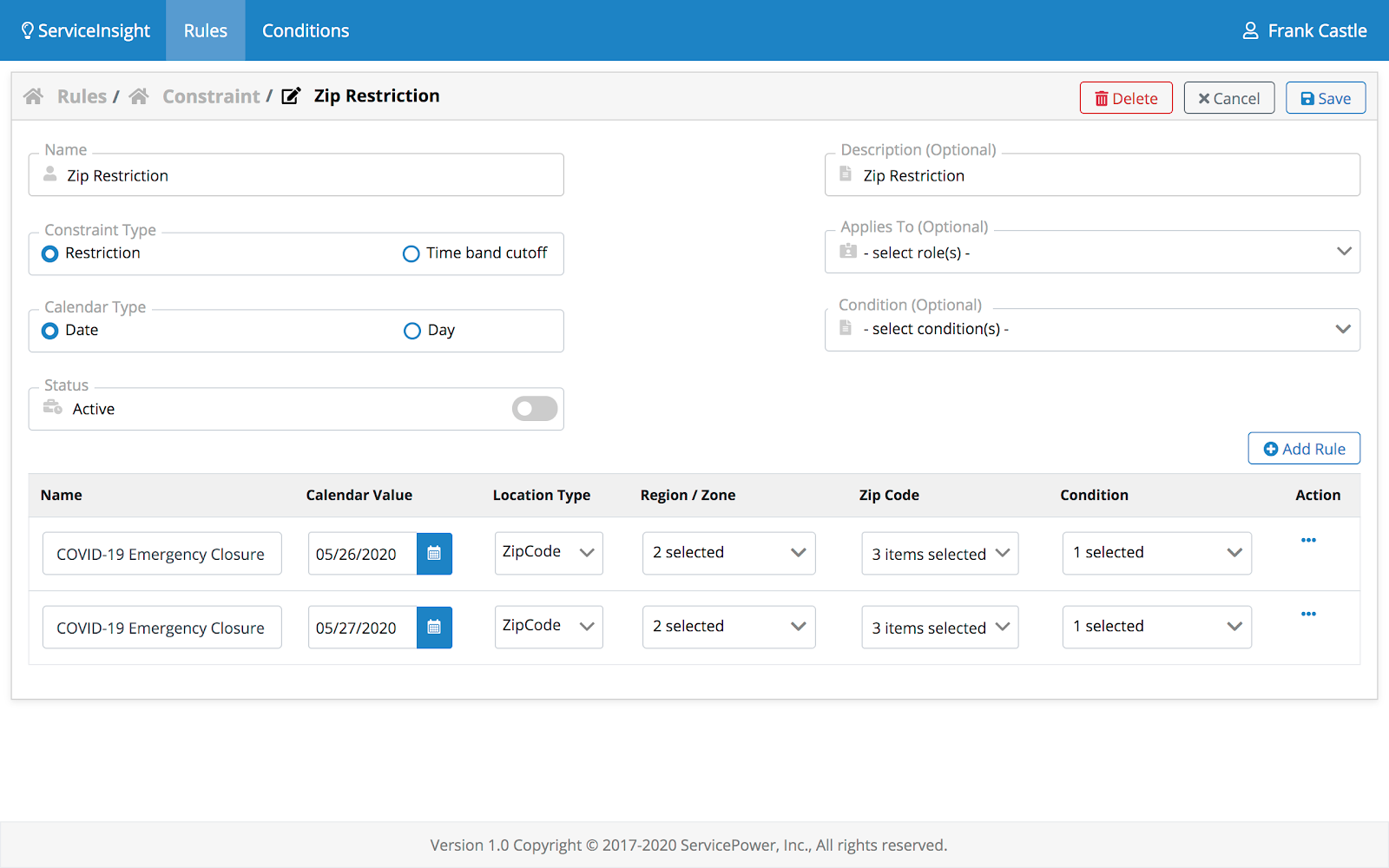 How to Know if a Zip Code Should Be Restricted
Because the details of this pandemic change every day, it is important to keep track of the numbers in your area. Anywhere that is considered a "hot spot" should be blocked from technicians entering or leaving.
A "COVID-19 hot spot" is discovered using two methods. The first involves analyzing the total number of confirmed cases in each county and finding clusters of counties that had relatively high values. The second entails dividing total case counts by the population of each county, which reveals county clusters with high rates of infection.
Managers should be checking the stats on their service areas weekly to ensure that clusters have not formed or disappeared within the past seven days.
We are unsure how long this pandemic will last, and scientists say this might just be our new normal. Practicing zip code management may become a core part of every workforce management system going forward, which is why tools like ServiceInsight are so important to have.
Although we are living in unprecedented times, there are tools available to help your business continue to grow during this pandemic. It is important to adjust to the new normal and keep both employees and customers safe.
Learn more about how ServiceInsight can help with intelligent dispatch management and integrating a blended workforce.