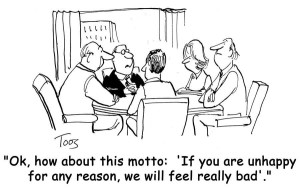 I recently traveled to England and booked a hotel room at a reputable chain. The hotel itself was beautiful; old architecture, a luxurious lobby and a fountain out front, and the prices reflected this. But as I checked in, my experience began to sour. The lady at the front desk proceeded to tell me that my room would indeed be missing all its furniture except for the bed and desk, as they were in the middle of a "furniture renovation." She then proceeded to tell me that they may come into my room during my stay to replace said furniture. I wonder what my face looked like to her as she explained this to me. Dumbfounded for sure. Perturbed, probably. I couldn't believe what I was hearing. Was there seriously no better way to execute a "furniture renovation" than to do it in the evening on a night when the hotel was at maximum capacity?
Service is always a topic of conversation and debate when it comes to the way businesses, and the individuals in them, conduct themselves. It also is a subject matter up for debate as well. Some, like the industry analyst Aly Pinder from Aberdeen, say that the customer is always right. Others argue that customer service has gone too far, especially to the point where businesses compensate with intrusive targeting techniques gained through business intelligence tools.
Either way, customer service is dependent on its delivery (or execution, some might say). And if your delivery is poor, your customer attrition will rise. Customers expect for you to put them first. And now, more than ever, with social technology abound, you want to ensure that you are performing, otherwise the world will know. According to the White House Office of Consumer Affairs, around 13% of dissatisfied customers tell more than 20 people. But you still have to run your business efficiently and cost productively at the same time.
So how do you provide a customer service experience that works with your operations without hindering your delivery? Let's examine what it is that customers look for in a customer service experience:
Personalization
Yes, you have many customers, but each wants to feel like you know them. Not in a creepy way like your browser cookies hand selecting ads based on your browsing history, but in a way where you understand their situation and preferences. Having a CRM isn't good enough, you need a mobile strategy that seamlessly integrates with your CRM to ensure that your field technicians are informed about and prepared for the customers they are meeting personally. Without communication between your mobile solution and your CRM, it doesn't matter how much information your customer service agents collect or how much is in your CRM. At the time of delivery, it might as well be useless without the techs having customer information at their fingertips via an integrated mobile solution.
Consistency
That's great that you wowed that customer that one time… but do you do it over and over? Can you replicate that amazing customer experience, the majority of the time? This is important to customers. Show up when you say you are going to, do what you say you are going to do, charge what you stated you were going to charge, etc. How can you do this? Push detailed job descriptions to your techs' phones, enable invoicing on site, and provide extra support via accessible documents and colleague collaboration in case a tech hits a rough patch during a repair.
Timeliness
Customers HATE waiting all day and changing their schedule for field techs, and so they should. The technology available today, our technology, offers dynamic promise bands and appointment windows as narrow as one hour and customer self-service applications that allow customers to engage with your business and in some cases your field techs.
Professionalism
Technology may not be able to help with this one, but hiring the right people will. Customers look for servicers who are easy to understand, helpful and engaging. Your techs should be polite, well dressed, trained, and able to go the extra mile for your customers. Vetting the right employees and offering regular customer service trainings will help you achieve this.
Follow Up
You should never be one-and-done with your customers. Delivery occurs from start to end, from the first contact with a customer to the follow-up. Only many businesses forget this critical point. Follow up shows your customers that it isn't just about the sale and that you genuinely care about their experience. It also gives you valuable input on how to change your services and offerings in the future, so you can continually improve. The best way to do this is to have a mobile and operations system that automatically sends out follow up surveys to our customers, collects the feedback, and sends it back to your CRM. Good thing ServiceOperations and ServiceMobility do this, helping you operate efficiently and please your customers at the same time.
Make sure your delivery is a close to flawless as possible with a little help from the most innovative field service management solutions in the industry. Wondering how else field service management can help your customer service delivery? Download our ROI Whitepaper below.