Work Order Management Software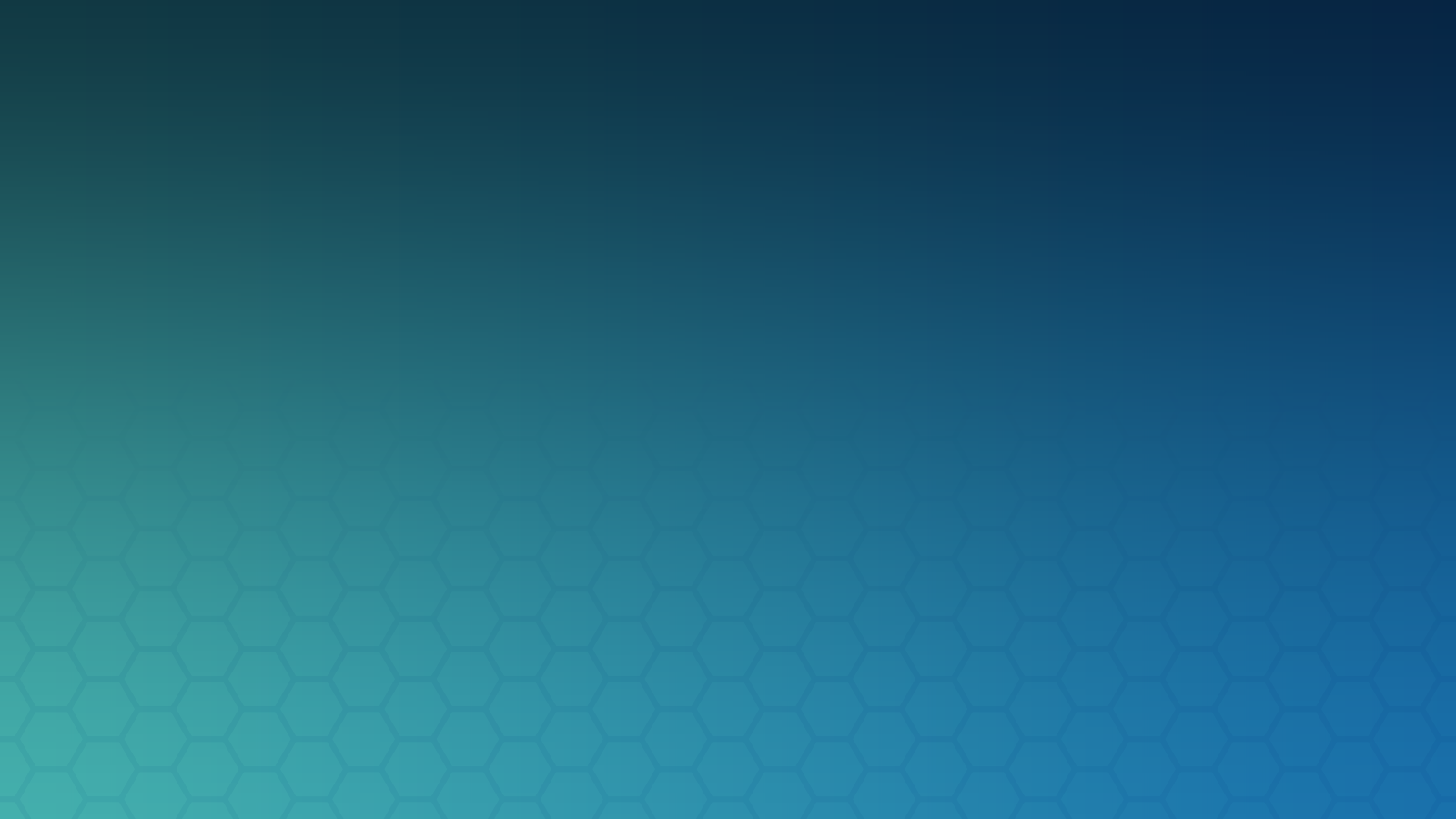 In the field service management industry, efficient work order management is critical for organized and streamlined operations. Work orders are authorizations for maintenance, repair, or service work and provide a comprehensive outline of the problem at hand. This includes the necessary resources, tools, and sequential steps required to complete each task successfully. These documents are the backbone of field service and are used for tracking labor, materials, and maintenance progress during a job.
Work order management encompasses the orchestration and monitoring of these work orders. Good work order management ensures that tasks are executed promptly, resources are well-allocated, and customer expectations are met– or exceeded. This critical facet of field service management is the key to delivering top-notch service while enhancing operational efficiency and customer satisfaction.
What is Work Order Management?
Work order management in the field service industry is the streamlined process of efficiently creating, completing, and recording work orders, with task prioritization tailored to each job's requirements. Manual work order management relies on paper-based methods, while work order management software optimizes these processes through automation.
Traditional Work Order Management Process
Traditional work order management can prove challenging to execute efficiently and effectively. It demands the ability to adapt in real-time to changes in service job descriptions, technician availability, tool, and resource allocation, as well as the capacity to implement contingency plans when unexpected circumstances arise. In short, this process entails correctly initiating a work order, service request, technician scheduling and dispatching, meticulous tracking of resources, tools, and labor utilized in the service, and the eventual closure and analysis of the work order.

The successful execution of each of these tasks hinges on timely communication and immediate access to technician availability. It also requires validation of customer data, transparency regarding tool and resource availability, and the capability to share and analyze work orders seamlessly– all of which are highly complex without a software solution. This process frequently falls prey to inefficiencies and errors.

Without an effective digital management tool, work order management is a very meticulous, demanding process. Let's review the traditional work order management process in more detail. It begins with creating work orders, which serve as the formal authorization for the job. During this phase, information gathering is paramount, as it involves compiling detailed descriptions of the problem, required resources, tools, and step-by-step procedures to achieve successful task completion.

Once work orders are created and information is gathered, the next step involves assignment. Here, personnel are assigned specific tasks based on expertise and availability. Scheduling also comes into play, as it determines when each task should be carried out, considering priority and urgency.

With assignments and scheduling in place, execution becomes the focal point. Effective communication is crucial during this phase, ensuring that any issues, delays, or changes are promptly relayed back to the management or dispatchers.

Resource allocation is essential throughout the execution phase, ensuring the necessary materials, equipment, and labor are available as required. Simultaneously, meticulous documentation records labor hours, materials used, and any unexpected challenges encountered during the job.

Work orders move toward the approval and closure stage as tasks near completion. This involves reviewing the work performed, ensuring that it meets the established standards and aligns with the initial work order specifications. Once approved, the work order is officially closed, marking the successful conclusion of the task. In this traditional work order management process, each step is interconnected, meaning an error in one step can create inefficiencies and more errors throughout the rest of the process. Fortunately, work order management software steps in to streamline this multifaceted procedure, ensuring that essential and accurate information remains readily available in real-time, ultimately enhancing operational efficacy and reducing the margin for error.
What is Work Order Management Software?
Work order management software is a digital platform that enhances the work order process, optimizing workflow and productivity for each job. It achieves this by standardizing and automating workflows, enhancing visibility into customer, technician, and tool availability, and improving communication. As a result, work orders become more efficient, field technicians are more productive, and customers benefit from an improved customer experience.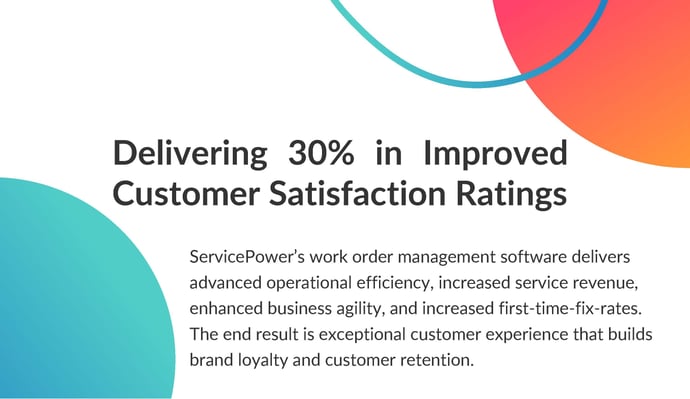 ServicePower's Work Order Management Software
ServicePower's Work Order Management Software streamlines the service workflow through intelligent automation, improves efficiency by dynamically dispatching the best technician for each job, and augments coverage through third-party contractors with increased geographic range, skill sets, and schedules. ServicePower empowers your organization to scale service with customer demand regardless of your workforce composition. ServicePower is the only solution on the market that allows you to service a Contracted Workforce, an Employed Workforce, or a Blended Workforce.

Powered by intelligent automation, our software allows dispatchers to simply watch the system work for them as it optimizes routes, schedules, and sends field worker assignments based on our patented, proprietary simulated annealing process. By streamlining the work order process, our proprietary software lets you focus on the bigger picture.

Inefficient work order management leads to mistakes that can be time-consuming to fix, cause delays, financial inaccuracies, and poor customer experiences. By intelligently automating the entire work order management process, our software eliminates these inefficiencies and keeps your services running smoothly, keeping your customers satisfied.
Benefits of Work Order Management Software
Advance Operational Efficiency:

Make data-driven decisions backed by intelligent reports and analytics. Reduce errors and optimize efficiency with real-time dashboards delivering insights on all aspects of your business.

Increase Service Revenue:

Our real-time job interface coupled with intelligent planning and forecasting features provide visibility into job complexity and completion and can greatly reduce repair costs. See how Richer Sounds reduced repair and warranty costs using ServicePower.
Enhance Business Agility:

Scale your business faster with a single system to streamline workforce management, forecasting, scheduling and work order management.
Improved First-Time-Fix-Rate:

Real-time schedule optimization ensures the fastest response time for every assignment. By utilizing AI-based optimization, work order management software expertly organizes your complex schedules to produce the most efficient outcomes.
Increase Customer Satisfaction:

Reach out to service providers, facilities managers and contractors within the unified work order management platform. Avoid delays during back-and-forth communication and improve customer satisfaction rates by 30%.
Unlock the potential of ServicePower to transform your field service workflow! With ServicePower's cutting-edge features, achieve seamless end-to-end control over work order flow, asset management, parts, tasks, estimates, and payment processing. Experience automatic improvements in customer satisfaction rates today!

Intelligent Work Order Management
Simplify field service workflow. Achieve full end-to-end management of work order flow and distribution with the associated assets, parts, tasks, estimation, and payment processing capabilities, automatically driving better customer satisfaction rates.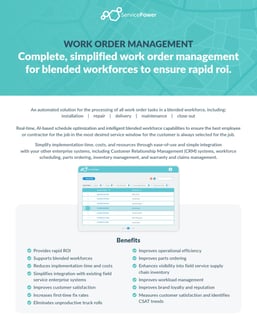 Experience the Power of Work Order Management Software
We'll give you a personalized demo to show you the power of implementing a work order management system.
Get Started