Business intelligence is more than static dashboards or emailed reports.
Field service operations require automated, mobile workforce management software integrated to real time, self-service, in-memory business intelligence to truly understand current operations, feed metrics back into the operation and fine tune future operations. To win the game, field service operations must make better informed operational decisions that improve productivity and services, while also reducing costs.
ServiceStats mobile business intelligence software assimilates all business related data into a single data hub with robust, self-service user report configuration. It offers 360 degree field service performance KPIs and scorecards in real time, accessible from either mobile or the desktop, as well as dashboards and reports, shareable with even those outside the organization.
The configurable, collaborative dashboards put key performance indicators in front of the right team members and the field community so that performance metrics and trends can be evaluated, corrective actions can be taken, and service revenues maximized.
ServiceStats, ServicePower, named a Visionary by Gartner in the 2015 Magic Quadrant for Field service Management, provides enhanced, cloud based collaborative data and insights, on the desktop or mobile device, that enable field service organizations actionable operational intelligence and decision support, providing performance metrics and bench marking data to improve the quality of service and the customer experience, while driving higher levels of productivity, efficiency and cost reduction across employed field service organizations.
With ServiceStats Business Intelligence Software

:

Deploy on premise or as true multi-tennant SaaS

Monitor operations with configurable, collaborative dashboards

True operational intelligence from the entire workforce, including contractors and warranty claims

Plan and forecast coverage using the latest map layering technology

Feed metrics back into the operation to support scheduling and dispatching

Drive workforce efficiencies through self learning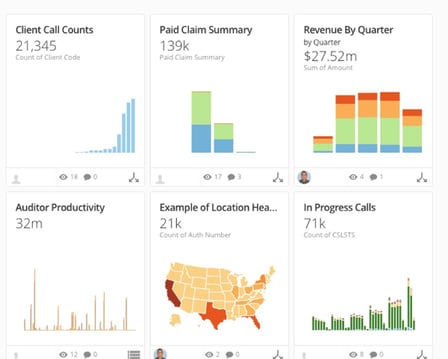 Key Metrics at your Fingertips

Collaborative Dashboards
Using ServiceStats field service organizations may:
Gather and analyze data, driving workforce efficiencies

Perform real time adjustments to meet KPIs

and customer satisfaction metrics

Model changes before committing

View top down, preconfigured coverage and employee reporting for employed work forces:

Job details

Customer satisfaction

Gantt audit

Jeopardy status

Filters

GPS reporting

Improve quality through self learning and preconfigured, top down, coverage, quality and costs reporting for contracted work forces:

Scorecards

Job reports

Claim reports

Change Analysis

User created reports repository

Self configure custom reports using 'whiteboard' functionality

Develop custom apps including data mining, custom scorecards, and predictive analytics

Utilize pre-configured connectors to publish reporting in a dashboard format to a wider audience, like its connected

ServiceOperations

third party contractor network
Contact our mobile workforce management experts to understand how ServiceStats can improve your operational efficiency today!