Sustainability in the Field Service Industry:
Best Practices and Technologies

Sustainability is more than just a buzzword – it's a critical influence for B2B buying decisions. McKinsey research explains that "sustainability is top of mind for boards and investors alike, and obviously, investors are increasingly directing capital towards sectors and companies based on their ESG strategy." With investors, companies, and customers focused on purpose-driven brands, the need to embrace sustainability is not going anywhere. Understanding how your company can adopt sustainable practices is the first step in improving your environmental impact and securing your market foothold.
In this comprehensive guide, you will learn why sustainability is important in the field service industry, examples of best practices, benefits, and the role of technology in field service sustainability. Let's get started.
Why is Sustainability Important in the Field Service Industry?
Businesses are looking to partner with companies that are environmentally responsible, and the field service industry is no exception. According to IDC research, 40% of field service organizations cite sustainability as a key priority. In order to build a competitive advantage, companies need to incorporate sustainability into their core workflows and operations. And, there are several facets of field service management that could use improvements. With numerous technicians driving trucks in the field, redundancies in service appointments, and inefficient inventory management, field service organizations have historically wracked up large carbon footprints. But it doesn't need to be that way.
Let's review the top best practices for embracing sustainability in the field service industry.
Examples of Sustainability Best Practices in Field Service
There are several best practices for field service sustainability, ranging from investments in field service optimization software to purchasing carbon off-sets. Here are the top best practices for your field service organization to adopt.
By following these best practices, your field service organization and customers will be primed to reap the numerous benefits of sustainability. Read on to learn the top benefits of sustainability in the field services, and the critical role of technology in implementing them.
Free Download
Sustainability in Field Service
Explore the benefits of deploying innovative field service management.
Download Now
How Sustainability in Field Service Benefits Both Businesses and Customers
Overall, sustainable best practices improve aspects of your business that are not serving the environment, your customers, or your bottom line. That's because there is often alignment between these issues, and sustainable practices aim to resolve them and better your business overall. Implementing sustainable practices in your field service organization helps to streamline operations, reduce wasted resources, and improve service accuracy. This empowers your organization to become more efficient and profitable, while also delighting your customers with high-quality service.
For instance, leveraging field service management software with schedule optimization reduces carbon emissions and improves schedule adherence, while also providing a better customer experience. Qualified technicians arrive on time for service appointments with the exact equipment and tools they need to complete a service job on the first try, and customers get their issues resolved faster. Improving your customer experience has significant benefits for organizations, for example, with a positive customer experience, customers are six times more likely to buy, twelve times more likely to recommend your company, and five times more likely to forgive a mistake. Now, let's cover how investing in technology will help you transform your field service business into a sustainable and profitable venture.
The Role of Technology in Improving Sustainability in Field Service
Technology plays a critical role in improving sustainability in the field service industry. With technological advancements, wasteful manual workflows can be replaced with more efficient and sustainable practices. Likewise, each of the following technologies contributes to the enhancement of field service sustainability.
Field Service Management Software: Investing in a comprehensive field service management software suite empowers organizations to jump-start their digital transformation. This powerful technology also serves as a solid foundation for sustainable field service practices. Several features contribute to this improvement, including dispatching, scheduling, and route optimization as well as inventory management and field service reporting.

Artificial Intelligence (AI): Software technology driven by machine learning and artificial intelligence is able to utilize your historical and current field service data to optimize the most efficient and sustainable workflows.

IoT Technology: Internet of Things (IoT) driven technology allows organizations to service smart homes and appliances using predictive maintenance. Technicians are able to remotely monitor appliances and identify when there is a need for repair or maintenance. By proactively maintaining the health of these appliances, there is a reduced risk of appliance downtime and repeat service visits.

Augmented Reality (AR): Field service management software with AR capabilities enables technicians to overly visual instructions directly in their environment, which helps to troubleshoot difficult service jobs on the first try. AR can also be used by customers to fix certain issues themselves, precluding the need for technicians to drive to the on-site locations in the first place.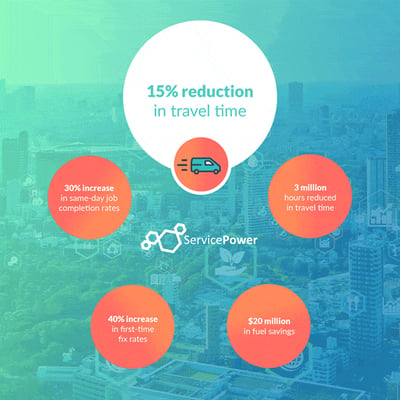 How Field Service Companies Can Include Sustainability as Part of a Larger Business Strategy
While embracing sustainability is a valid reason to implement new practices, there are also several benefits for companies that go beyond improving their environmental impact. Investing in field service management software not only improves your carbon footprint but also ensures that you are providing the most efficient and highest quality service for your customers.