The Effective Field Service Manager's Guide to Strategic Workforce Management: Part I
As a field service management leader, you're constantly looking for ways to boost your team's productivity, raise first-time fix rates, and increase customer service ratings and profits. You're studying metrics, reviewing and optimizing processes, and searching for dynamic field service automation tools that empower and enable your technicians to offer customers excellent service. You're reviewing your business model, thinking creatively about new ways to better serve customers, and evolving to create a bright future for your company. As a modern field service management leader, you must ask yourself this crucial question: are you underutilizing one of your best assets – your field service management team?

In Part I of this comprehensive guide, we'll recommend specific actions that will take you from managing your technicians to inspiring, leading, mentoring, and empowering them. By adopting the right leadership approach, in conjunction with implementing the right workforce management software, you'll motivate technicians and set them up to be successful.
The result: not only will you lead a happier field service team; your technicians will make customers happier, they'll earn higher customer ratings as a result, and your field service company will generate more revenue. Furthermore, combining proactive leadership with modern field service management software will improve efficiency, cut costs, and set you apart as a leader in the field.
Stay tuned for Part II: third-party and contractor management best practices.
Counting value vs. creating value
Circles of influence vs. circles of power
Leading people vs. managing work
The best service field managers are actually leaders who influence and inspire the technicians they lead. This means getting their hands dirty and walking the walk. Instead of trying to assert power and control, effective field service leaders empower their employees and contractors, build relationships based on accountability and trust, and motivate their people to turn customer challenges into opportunities.
Building, leading, and growing a productive team of field service technicians must go far beyond the data, processes, and field service management software you may use to bring it all together. Successful field service management leaders also need to commit to working strategically with their employees and contractors first.
In the words of Richard Branson, the well-known business leader, investor, author, and philanthropist,
"Clients do not come first. Employees come first. If you take care of your employees, they will take care of your clients."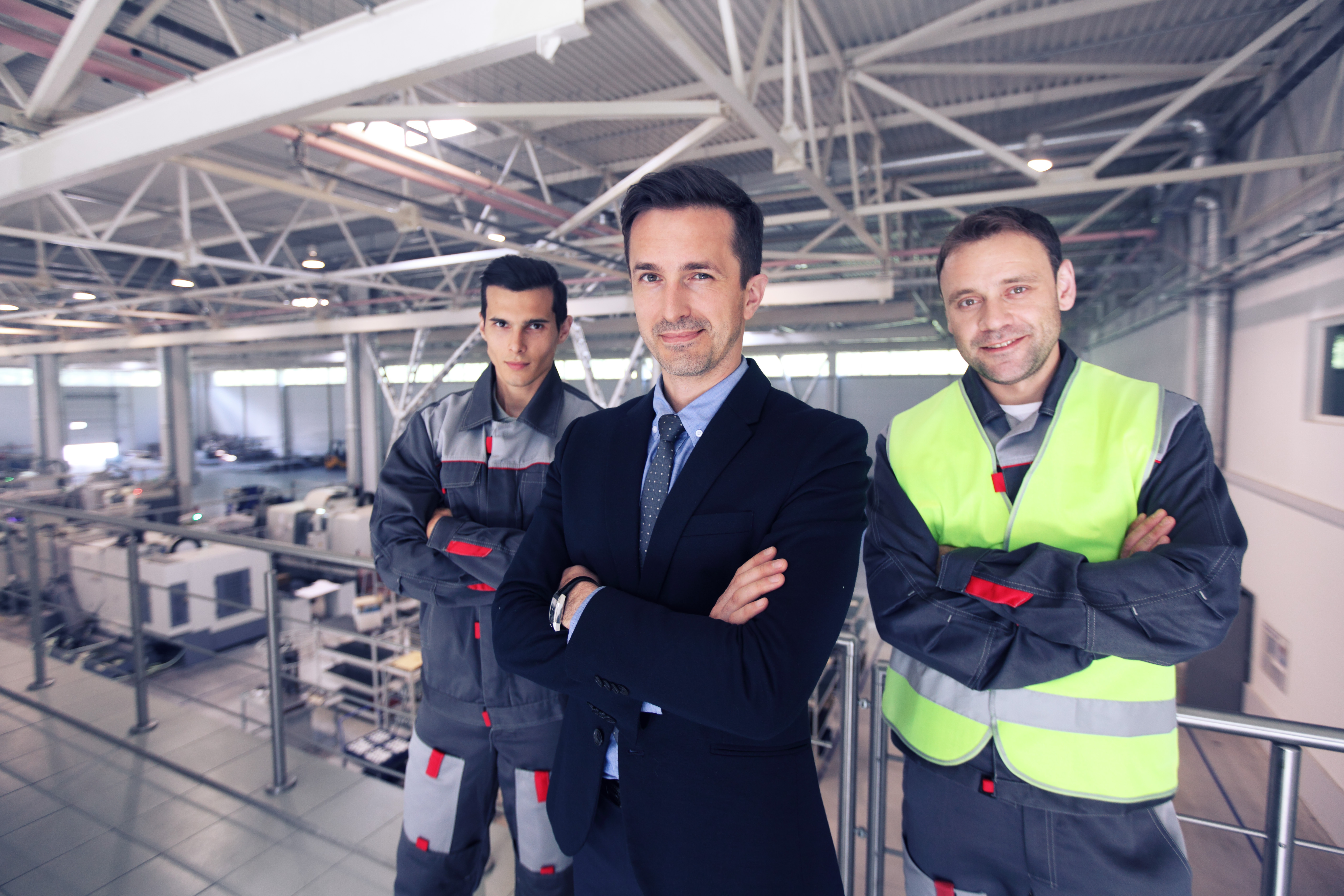 As a field service management leader, you're not on the front lines servicing actual customers alongside your team of technicians; however, you can still work side-by-side with your team in other ways to proactively manage your technicians and optimize their performance.
Lead Using a Proactive Workforce Management Approach
When it comes to working with your field service technicians--your foot soldiers and brand ambassadors who are on the front lines--are you managing them or are you leading them?
Part of transforming into a strategic, highly effective, and proactive field service leader, as opposed to a more reactive field service manager, means taking a forward-thinking, open-minded approach to workforce management.
Proactively leading your team of technicians to achieve better business outcomes--and become happier, more fulfilled employees--means doing the following on a daily basis:
Directly communicating with your technicians, often, in both written and verbal form, to deliver clear and effective messages
Actively soliciting technician feedback to improve operations and not only solve customer issues, but prevent them from reoccurring
Being open to constructive criticism so you can learn from your mistakes and turn your weaknesses into strengths over time
Seeking help and advice from your employees and contractors when working within business areas or working on projects outside of your expertise
When you proactively lead your people and treat them as a valuable resource, whether they're employees or contractors, you infuse your company culture with a sense of calm, positivity, respect, and focus. This cultural shift trickles down into the services your technicians provide each and every one of your customers.
Advantages of Being a Proactive Field Service Management Leader
By keeping the lines of communication open with your technicians and fostering a culture of honest feedback and respect, you get a direct line to your customer's experiences, thoughts, and responses to your service before problems arise. You can then analyze customer feedback and derive actionable insights to continuously improve the way you lead your field service management business.
Furthermore, developing yourself as a proactive, positive leader who technicians can trust increases the probability that your employees and contractors will be completely transparent when reporting customer issues. If a technician makes a mistake, he or she is more likely to be honest with you if they trust you. You can then take this honest report and use it to make measurable business improvements.
Knowing the supervisor-employee or supervisor-contract relationship is built on a foundation of mutual respect and empathy enables more effective and more productive communication within your organization. This honest customer feedback will be the launchpad to streamline daily operations in your field service organization.
Optimize Your Depot Repair at Each Stage of the Repair Processing Lifecycle with ServiceDEPOT
To be a truly effective and strategic workforce management leader, you must identify roadblocks and implement automated field service software solutions to remove inefficiencies as quickly as possible. For many field service organization, depot repair is a roadblock that slows down the organization's growth.
Ignoring business lags will create a more cumbersome, stressful environment for you and your field service technicians and breed customer complaints. ServicePower's newest tool, ServiceDEPOT, streamlines your depot repair process and integrates it into your global field service platform.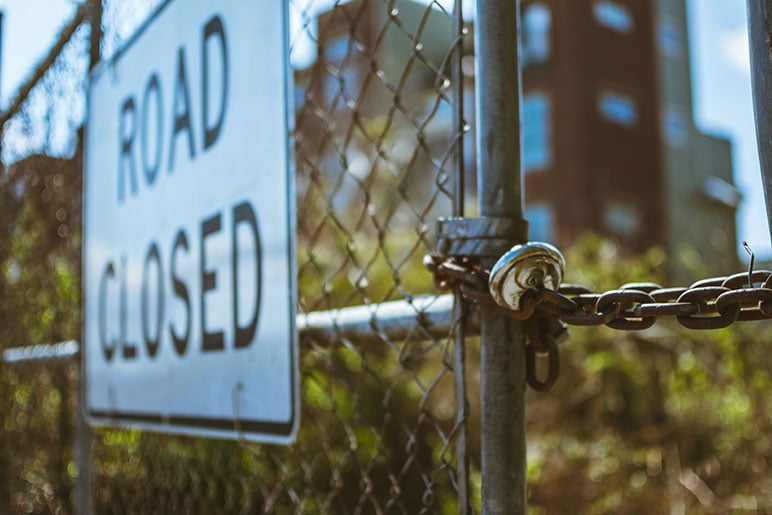 "ServiceDEPOT is focused on the depot repair process....driving increased customer satisfaction and NPS scores, while reducing inbound calls into the call center."
Take a look at how ServicePower empowers you to strategically manage your depot repair operation, taking the stress off you and your technicians so you can not only please your customers but delight them: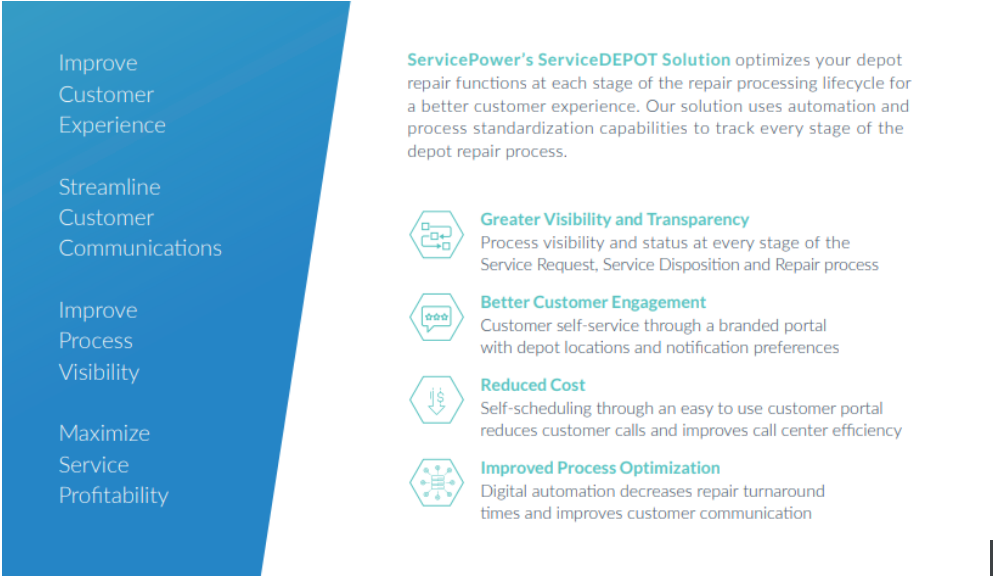 By changing the way you manage depot repair through a powerful, automated solution, you're showing your team of technicians that you value removing bottlenecks and replacing them with efficient tools that set them up to win--with customers and within their own professional careers.
Read more about how ServicePowers' new solutions offer a seamless customer journey for in-home and depot repair >
Strategically Schedule Your Field Service Technicians Using Workforce Management Software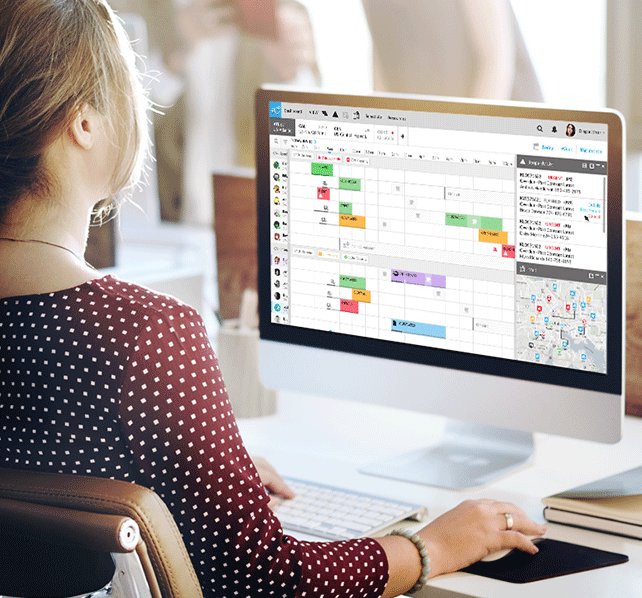 According to the Harvard Business Review, there are three differences between managers and leaders.
Another solution proven to make technicians and customers experience even higher levels of overall satisfaction is appointment scheduling software.
Scheduling is the backbone of your organization, and as such it deserves a strategic approach.
Scheduling software helps field service technicians arrive on time and impress customers with their preparedness. Customer and technician schedules are constantly changing throughout the day, so you need an agile solution that allows you to quickly adapt to change.
The old way to plan your technicians' work:
Send your technicians out into the field with a set schedule at the beginning of each work day
Communicate schedule changes via phone and hope the technician writes down all the customer information (time, location, issue, service history, and more) correctly
Cross your fingers that the technician assigned to last minute work orders has the skills needed to fix the problem during the first visit
The modern way to plan your technicians' work:
Enable mobile technicians to be agile to constantly changing work orders: dispatch technicians to jobs in real-time based on their availability
Provides technicians with the processes, tools, and information required to complete jobs on time, offering more value to your customers
Confidently send the right technician to the right customer appointment, knowing your field service management software tracks technicians' skills and specialties
Appointment scheduling software isn't just about making customers happy; it's about making your field service technicians happy, too. Yes, you're maximizing technician productivity and efficiency using AI-based schedule optimization technology; however, it's more than that. By sending the closest, more prepared technician to a customer appointment, you're setting him or her up for success. Happy technicians are empowered technicians, and empowered technicians are more likely to solve customer problems, boosting your FTFR.
Adopting smart scheduling can boost productivity by 68 percent, as it allows you to collaborate with your employees, contractors, and customers.
Explore 3 more ways to improve workforce capabilities with FSM software.
Use Contractor Management Services to Ask for Help and Access Niche Experts
To become a strategically effective field service manager, you need to know when to ask for help and call in niche experts.
You need to be ready to scale as your demand blossoms due to exceptional field service. When you use contractor management services, you can easily manage and dispatch a hybrid workforce of employees and contractors. This diverse field service management team is working toward the same goal: fixing each customer's problem as quickly as possible with the best technician for the job.
How to retain top-notch contractors
As a leader of a field service management team that is expected to perform, you have a hand in determining if contractors are a great asset or a liability to your organization. According to the Aberdeen group, about 20% of all service technicians dispatched by home service companies are 3rd party contractors (independent contractors/1099 workers).
That 20% can make or break your field service management business, so it's best to treat the people who make up that 20% with great attention and care. If you do that, chances are your contractors will pass on that positive energy and attentiveness directly to your customer. The result: higher customer service ratings.
Read how your field service management style translates into customer ratings (and revenue).
To effectively manage this portion of your workforce, you need to lead, not simply manage, your contractors. Contractors may be working for multiple field service organizations. Particularly for those in high demand, like those will expertise in smart technology, you need to remain an attractive option by knowing what they want. Most field service contractors want to work for an organization that delivers:
Flexibility and autonomy in their schedule
Prestige and high customer ratings
A customer communication platform
Organizational functionality, including smart dispatch and route optimization
Timely invoice response
Read more about why it's important to develop an understanding of what third-party service provider workers really want.
Screen your contractors thoroughly to ensure their work styles and attitudes fit the accountable, team-oriented environment you've worked hard to create and lead
Clearly document policies, management, and expectations in writing, and reinforce them verbally to ensure complete and total clarity
Appoint or hire someone within your staff to be a contractor point person; though most contractors should be experienced and work well with minimal supervision, it's wise to have a dedicated resource to nurture these valuable relationships
Remember contractors should be treated with the same level of respect as full-time employees; would you work for someone who treated you with anything less?
Need some seasonal advice when it comes to improving your relationships and business outcomes with contractors? Spend a few minutes and get a few tips on how to improve contractor management over the holidays.
Need some help effectively managing your contractors? ServicePower can help.

Train Technicians to Positively Represent Your Organization
Whether your customers are working with contractors or full-time employees, your field service techs are the face of your company. Are they representing you well?
Being a field service technician means thinking on your feet, solving problems for sometimes-irritable customers, all while positively representing your field service management company in a positive light--even if you're exhausted.
While field service executives may be in the boardroom making strategic decisions that affect the customer experience, your field service technicians are actually the ones creating the customer experience, day in and day out.
Read more: Field Service Technician: the Next Great Superhero?
Customer service ratings make or break FSOs, and techs need to be trained in communication/social engagement in a professional role - not just procedures. As a proactive leader, it's essential to coach your technicians by doing the following:
Educating technicians on how to be culturally sensitive to diverse customer preferences
Practicing ways to diffuse difficult situations - like when repairs take longer, when parts are not ready or when customers are not satisfied with their experiences
By investing time in coaching the people who represent your field service management company--your technicians--you positively influence the first impression new customers walk away with after each job is complete.
Ensure Your Employees and Contractors Adopt and Use Workforce Management Software
If your employed and contracted technicians don't adopt and consistently use the workforce management software you invest in, your organization and your employees will not experience the true benefits of modern AI and automation.
Didier Bonnet, coauthor of Leading Digital and Global Practice Leader at Capgemini Consulting, emphasizes the integral role management professionals play in technology adoption:
"The job of a manager is to help people cross the bridge — to get them comfortable with the technology, to get them using it, and to help them understand how it makes their lives better."
How you can tell you have your technicians' buy-in:
You're receiving real-time progress updates from field techs (learn more about how real-time data empowers your field service team)
Technicians are communicating directly with customers via their mobile devices
You're soliciting and receiving positive feedback from both employees and contractors when asked about their experiences using the new tools
FTFR and corresponding customer ratings are steadily improving
Signs your technicians are not adopting or adequately using your workforce management software:
You have the same limited visibility into work order status and completion as you did before adopting the new solution
When asked about using the new technology, technicians resist, citing reasons like, "this is how we've always done things and it works…"
Your VOT (Voice of Technician) and VOC (Voice of Customer) are expressing negative sentiments in the form of internal frustration and lower customer ratings
As a field service management leader, you must tackle this common internal resistance to change by learning how to create a culture of early technology adoption in the workplace. By leading the charge with a positive, supportive, and hands-on management style that reiterates the benefits of using new technology, you're less likely to experience technician resistance to adopting it.
Remember Your Workforce is Human - Your Best and Most Effective Strategy is to Treat Them Well
Between adopting and using new technologies, fixing technical problems on-the-fly, and keeping customers from all walks of life happy on a daily basis, being a field service technician can be difficult, whether you're a full-time employee or a contractor.
Your team of technicians put in long hours performing a very physical job that requires them to be on their feet, with their heads in the game in front of very demanding customers. To succeed in this high-pressure environment, every single field service technician needs an advocate who is going to look out for their professional well-being while keeping a close eye on their happiness levels as a person. It matters.
Read the 4 keys to happiness at work >
Every strategically effective field service manager should ask themselves:
Are the field service technicians I lead, mentor, and supervise challenged?
Is my team rewarded for overcoming both internal and customer challenges?
What are my team members' career goals and aspirations?
How can I support my technicians on their quest to achieve them?
Which field service management suite can my organization adapt to facilitate both customer and technician goal attainment?
What can I do better as a leader to serve my employees, contractors, and customers?
To be an effective field service management leader, you have to care not only about your company's bottom line but about the people who help you achieve professional success: your technicians.
Key takeaways from this guide:
Be willing to climb into the trenches with technicians with employees and contractors
Commit to hearing both sides of the story when managing customers and leading technicians
Consistently act in the spirit of service and be willing to wear many hats to remove reported obstacles
Put on your HR hat and have empathy for employees, for their hard work, for their attempts, and for their desire to do well and progress in their careers
Empower your technicians with the right workforce management software that sets them up to win with customers; they will then use that success as motivation to excel and progress in their careers
Your technicians are the face of your entire field service organization, so make sure you value, nurture, train, and treat them accordingly. Being a strong, caring, educated, and proactive leader is the most strategic move you can make to maximize your field technicians.
Deliver the Best Customer Service With a More Effective Workforce. Learn How.