ServiceStats, our in-memory business intelligence tool, facilitates the analysis that field service organizations need to regularly undertake to ensure compliance with business metrics and optimal resource allocation at project launch, as well as once the ServicePower field management platform is fully deployed.
Stats ensures that field service organizations perform at the highest operational efficiently, profitability and customer satisfaction levels possible.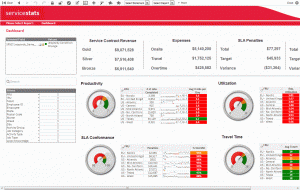 ServiceStats also contributes to the growing trend towards 'Big Data". As companies collect ever increasing quantities of data from all stages of the field service process. ServiceStats assists in 'crunching' the data, enabling field service organizations to make real time decisions to plan and forecast workforce, control costs and increase margin and utilization, intelligently manage parts and materials usage and improve cycle times and customer service.
More importantly, our team of statisticians, led by industry veterans, can supplement a field service organizations own internal business intelligence teams, by performing regular 'health checks', highlighting data derived opportunities for improvement across the enterprise.
ServiceStats Features:
Fully integrated with both ServiceScheduling and ServiceOperations
Deployed on premise or hosted for ServiceScheduling clients, while the ServiceOperations version, like Operations itself, is a fully hosted SaaS application
Robust platform based on Qlikview BI software
Proven technology has been stress and performance tested to ensure the platform can handle the largest transactional volumes
Fully redundant infrastructure, with complete, vetted disaster recovery plans
In-memory database provides ability to quickly retrieve and manipulate real time data
Available metrics include:

Workforce metrics

Capacity
Utilization
Shift compliance
Efficiency/Productivity
Drive time/Fuel expenses
SLA Compliance
Cycle time
On time arrivals
Management resources vs field resources
First time fix success
Rework rate
Reschedule rate
Rejection rate

Business metrics

Margin
Schedule Cost
Service Cost
Quality of Service
Customer Satisfaction

Warranty Claim metrics

Service cost
Ave labor, parts, mileage, tax and freight costs
Labor only job percentage
Parts usage
Fraud analysis
Audit savings
Claim edit validation error rate
For information on how ServiceStats and our on staff analytics experts can help identify improvement in your business, as well as help digest all of the Big Data you're collecting, click here.
GO BACK