ServiceSUMMIT is an exclusive event that brings together field service leaders from the ServicePower community across North America. You will have a chance to learn about new product capabilities, hear success stories from peers, and discuss industry trends.
---
SCHEDULE OF EVENTS
Thursday, April 16th | Afternoon & Evening | Starting at 2:00 p.m.
Conference opening with product training and one-on-one meetings
Opening Reception
Friday, April 17th | 8:30 a.m. - 4:30 p.m.
Full day with keynote speakers and panel presentations
*Agenda coming soon.
Click here to see the 2019 agenda
---
WHY ATTEND?
Learn about the latest innovations and technologies that ServicePower is offering
Get hands-on training for

ServicePower's platforms and applications

Spend time learning, having fun, and making connections

with other field service professionals on sunny Miami Beach

---
ABOUT THE VENUE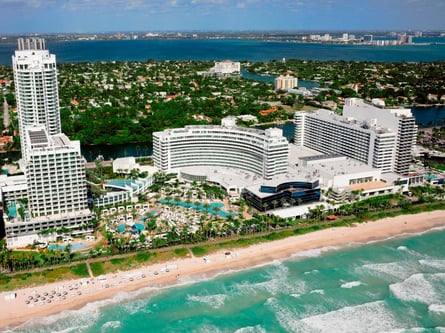 Fontainebleau is one of the most historically and architecturally significant hotels on Miami Beach, FL. Its iconic design is a spectacular blend of Miami's glamorous golden era and stylish modern luxury.
EARLY BIRD SPECIAL: Attendees that book their room by Sunday, March 15, 2020 will receive a $100 credit for the night of Thursday, April 16, 2020. The $100 credit will be applied to your bill upon checkout.
Room rates $359 + Taxes and Fees