Maintenance Scheduling Software takes your business to a new level.
Some products still fail even though manufacturing standards have improved exponentially over time.
However, new technologies like smart, connected devices, IoT and M2M and the prevalence of readily accessible broadband networks create new opportunities to learn about a product issue before it fails, and even use the latest analytics to predict future failures. This is where maintenance scheduling software is beneficial.

If we can predict failure, we can create maintenance schedules and use intelligent, optimized maintenance scheduling software to ensure the right field resource gets onsite to improve product up time and delight the customer by saving time waiting for a tech to show up.
Maintenance scheduling software provides real time, intra-day route optimization which decreases schedule costs by limiting unexpected multiple trips to a customer site, and improves productivity and efficiency, improving overall customer satisfaction.
ServicePower's maintenance scheduling software enables your managers to schedule those maintenance visits, while providing your managers with line of sight to job status, geo-location of assets and nearest tech. Maintenance scheduling software utilizes an intelligent optimization algorithm whiches automatically creates the best maintenance schedules, and lets you schedule the right parts and helper labor to get ahead of future failures.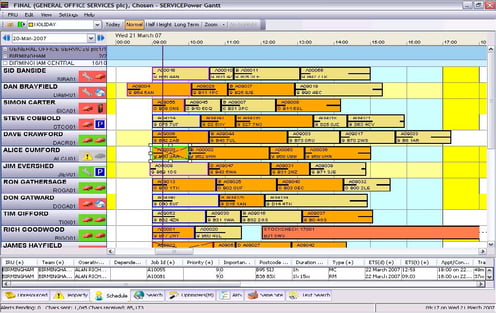 Our maintenance scheduling software provides:
Connected maintenance scheduling software


Optimized appointments, SLA scheduling, parts and integrated analytics

In memory, precalculated travel

Patented Simulated Annealing algorithm yields best in class route optimization!
Maintenance Scheduling Software Gantt Interface

View staff and jobs, job status, reallocate jobs at risk of disappointing a customer!
Maintenance Scheduling Software Supports Integrated Enterprise Mobility

Cross-platform design supports all hardware and operating systems
Job schedule, status updates, navigation

Tasks, Actions

Photo capture, schematics

Signature capture

Estimates and payment processing

Forms and flexible form rules that support job-by-job delivery of forms and data collection
Maintenance Scheduling Software Provides Integrated Analytics

In-memory data for fast calculations and data delivery

Score card

Productivity, efficiency

Audit

Maintenance scheduling software also does forecasting
Schedule a demo today to experience the power of our maintenance scheduling software.