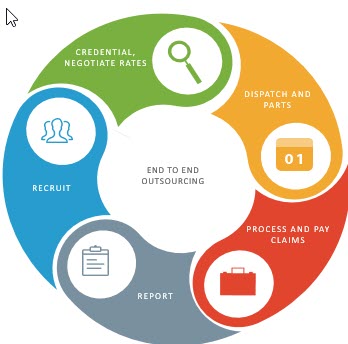 When you select ServicePower to simplify your field service management, we use our highly rated, global, mobile field management suite to provide these aspects of service delivery:
1. Recruit 2. Credential & Negotiate 3. Dispatch Recruit contracted labor with skills required to perform field based services Work with you to agree on credentialing standards and negotiate labor rates Dynamically dispatch best contractors (employed or 3rd party contracted) for every job and manage status to call closure
Many clients need assistance in supplementing or building an entire field service network, or even taking consumer calls directly.
ServicePower offers the best global, mobile field management platform. We use it ourselves to assist clients that need field service help.
Through our ServiceOutsourcing service, ServicePower can recruit and manage a 3rd party contractor network. We can take consumer direct calls and dispatch our network, or you can continue to offer call center services and simply dispatch work to our network through our ServiceOperations platform.
Either way, we can then manage the job from dispatch to claiming, ensuring a quality experience for your consumer.
Focus on what your do best, and let us worry about the rest! Some of the most prestigious names in North America and the Europe rely on us every day.