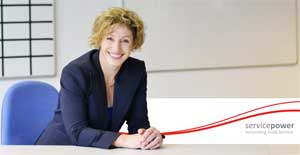 Welcome to our blog series "CEO Corner" with the ServicePower CEO Marne Martin. Marne Martin joined ServicePower as CFO in January 2013, and became CEO in September of 2013. Previously she was a member of the founding team of the first GSM cellular company in the Americas, managed an equity investment and management firm as President, and led the successful IPO in 2008 of a 50 year old telecom services company as their CFO. Besides leading service businesses to excellence, Marne's additional passion is horses and for fun, she is a dressage competitor and breeder.
Every other Monday, Marne will contribute to our blog with a range of topics and business advice focused on field service organizations. Make sure to subscribe to our RSS feeds so you don't miss her posts.
We wanted you to get to know Marne and her role at ServicePower a little better so here is a very recent interview she did with Proactive Investors. If you are interested in learning more about Marne or how ServicePower can transform your field service please email us at info@servicepower.com.
Explain a bit more about "the business" [ServicePower]:
The company has its core products in scheduling, dispatch and warranty claim management but if you look at the overarching theme it is software enabled service in the field service industry. Field service is when you have a service event in the field so you're sending a technician out, whether it's an employee or a contractor, that's really the basics of field service.
You joined the business back in January 2013 as the FD [CFO] at the time and you have since taken over as CEO… What brought you into the business, what do you like about it?
What's interesting is I had actually been party to some of the early telecommunications and telematics companies back in the late 1990's and I also have a background in service. What appealed to me about this company is really the fundamental strength of the core products and the blue chip clients. I had a very strong feeling that should we get the company back on firmer financial footing that actually with the strength of the products, the clients and what we could do in the market looking at connected service, the M2M evolution which I was familiar with, there would be a huge opportunity for Service Power going forward and I wanted to be part of that.
Well, lets take a look at that in a little more detail because the recent trading updates showed revenues rising strongly last year. A full set of results have not yet been released but talk about where the growth is coming from.
We did our mobility acquisition in January [2013] within a few weeks of me joining and one of the very first things that was apparent was that the company needed to grow in every segment of revenue so we needed to grow license revenue, SaaS revenue, transactional revenue and we needed to also look at how we build additional revenue streams. The growth has really been a diversified set of growth last year, 2013 and we will build on that going into 2014 and 2015.
What sorts of customers are we talking about, what do your clients look like?
We are very strong in the verticals of insurance which we look to do what we are doing in the U.S. and the U.K. primarily to the global insurance vertical. We are also very strong in what they call white-goods, brown-goods, which means appliances, consumer electronics, we have virtually every big brand as a client. We also have a very important client that is an international refreshment client, we have telecommunications clients, we have boiler heat clients, social housing is a really important vertical for us and we also have process industry clients. The strength of the client relationships and the longevity of those relationships is really a positive omen, if you will, to the future of ServicePower.
You said in your last update that you had put the company on a firmer financial footing, where do you go from here? What does the evolution look like for ServicePower from this point?
We have really tightened our focus on the core products. For those that followed ServicePower in the past, they knew that the company was trying to expand its products but really we need to focus on what we're good at which is software enabled service (I've coined this term SES). Our core products are our scheduling product, our dispatch product, the warranty claims and ultimately the mobility application, and the goal is to get that technology into the hands of the service technicians (as we talked about field service). We want to be able to minimize our customers' costs and maximize productivity but also maximize the consumer experience and you have to have mobility applications to do that. Mobility delivers our software into the field.
Let's look at the company from a potential shareholder point of view because I think it's worth mentioning market capitalization is only £13.5 million, which is less than revenue, your last turnover. It has around £3.4 million in cash on the balance sheet and the forecast is to be profitable this year. How do you get investors to recognize the potential?
One, I think we need to do a better job with the brand awareness and understanding what the company does. I think your first question asking what field service is is a sign of that. And then we need to show the reproducibility of revenues and the growth in every segment, and that's something where we're really benefiting from the economic recovery in general. Also, making people aware of what we are looking to do with this connected or smart service idea with the M2M. We have business logic and triage processes around how you should address a field service need and then of course our software is what optimizes and gives a company maximum productivity when they do need to conduct field service. As we evolve with that we will be able to drive further value and also I think excitement in the company and the technology we are offering. We also want to make sure we are broadening our channels and alliances. The company in the past has not had many channels and alliances that they have been able to commercialize. If we do this and we develop a little bit more confidence from the investors I am certain we will able to get the market cap up to at least one time revenue and eventually, hopefully beyond that.
What about milestones from this point? What do you see as the main milestone?
The first thing I did of course was we needed to make sure our existing customer base was happy so I feel that overall we've accomplished that. There are some steps we need to further take in terms of our core product strategy, our infrastructure strategy, how we are working to develop unified platforms so that more customers can use multiple products that are all well under way. We have promoted some people within the business that had very deep product expertise and we have also recruited some people from outside the business to build our channels and alliances and some of the strategic areas. The milestones will ultimately be winning new business and showing the commercialization of both the current core products with renewed brand awareness as well as some of these additional technological trends we want to convert on.