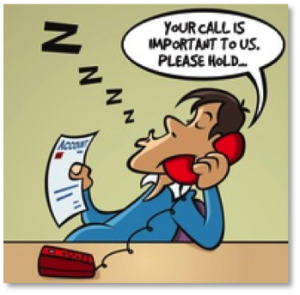 Last week, Shep Hyken at The Smart Van wrote a post about the concept of firing bad customers. His argument is that the customer isn't always right, and in some cases it help actually help your organization to lose a customer who is abusive or never satisfied. And while Shep makes a valid point, this is dangerous territory for service organizations. While you may get a bad apple from time-to-time, when you receive repeated complaints from an individual customer, instead of immediately taking the leap to "fire" them, this may be time to evaluate whether or not you are truly, actively listening to your customers.
So let's start then by assuming that all customers are good, not abusive, and vital to your organization's long-term well-being. After all, this is the most pragmatic and valuable attitude to have, right? If so, what can you do to improve your team's listening skills so they really understand what the customer is saying, what they need, and – if it seems to be happening – what's upsetting them? Here are three ways where your organization can do a better job listening to your customers.
1. Get Social
Social media provides the perfect platform for listening to and engaging with your customers. In 2013, 47% of consumers surveyed reported using social media to share their service experience with a broader audience (Zendesk). If you give consumers the ability to constructively provide feedback via your social media channels, and then you incorporate those responses into your analytics, customer service measures, and research and development initiatives, you are on your way to truly delighting your customers, based on their feedback. Bosch does a great job of listening to their customers via social media.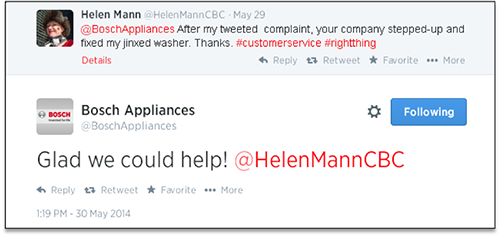 2. Give Out Surveys
One of the best ways to listen to your customers is to give them a direct and immediate way to give your organization feedback, through customer surveys. Your customers can tell you what they thought of their service experience, how you can be better, and give you ideas for how to improve the overall customer service experience. Did you know that ServicePower's mobility product, ServiceMobility, has a customer survey feature that allows a field technician to send a follow-up survey to a consumer's email while still on site? Then it is your responsibility to actually take what your customers have to say into account by reviewing responses and adjusting policies and procedures accordingly.
3. Have an Integrated CRM
CRMs really are fabulous magical things. They hold the details of your customers like treasures, ensuring that you have all the information you need to provide the best and most personalized customer service possible. They should never be static, but rather ever evolving and growing, updated after any interaction. This is hard to do though if your CRM does not easily integrate with your other systems. You want your field technicians to have the ability to collect information about your customers, report complaints, concerns or compliments, and have these updates saved in your CRM. In this sense, you want to engage in active, real-time listening. But you can't do this if that information is not retained. ServicePower's products seamless integrate with all major CRMs on the market, providing unhindered back and forth communication between your field service solution and your CRM, truly giving you the ability to listen to your customers and affect change.
The above three suggestions provide platforms that allow you to listen to your customers better by giving them ways to give you feedback, feedback that you can then act upon. Because according to Webster Dictionary, listening is not just the act of hearing a noise or sound but rather to "take notice of and act on what someone says; respond to advice or a request."
Sometimes your customers' complaints may seem unfair, repetitive, or even bullish. But take the time to ensure that you have at least listened to them. If action can in fact change your organization's processes for the better, take it. You will also find that if you give your customers more ways to be heard, you will build more respect. Perhaps with these suggestions there won't ever be a need to "fire" a customer, maybe just the challenge to convert them into a happier one.